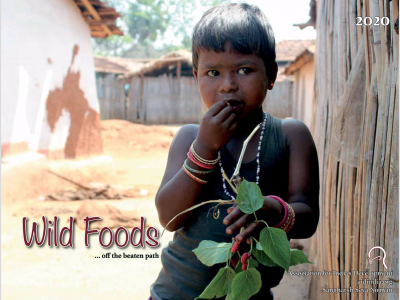 Wild Food: Off the Beaten Path
Food …. Growing Wild
As dusk gathers and wispy tendrils of smoke curl into the evening air, a mother hunched over the cooking fire calls out to a child – Chotu, run down to the stream edge and pluck some saag. She intends to throw these tender greens into her pot to make a stinging tarkari. On a wet monsoon morning, women set out into the jungle to collect the roots and shoots that have sprung up from the soggy earth overnight. A farmer floods his field in preparation to transplant rice saplings and also eagerly awaits the silvery fish and crustaceans that come teeming in its wake.
In villages and forests across India, uncultivated leaves and bark, seeds and berries, fruits and flowers are foraged and gathered. Insects, birds and rodents are hunted, honoring ancient synergies between what the land can give and what the body needs. Boiled to make tea, ground to make a poultice, dyed for color or added to extend simple peasant fare, the provenance of what grows has been part of our collective folk wisdom.  Uncultivated foods form a vital element of a food culture that arises out of a place, a soil, a climate, a history, a temperament and a collective sense of belonging. It is not something sold to people. 
In a world dominated by agribusiness, pesticides, herbicides, GMO foods and farmer suicides uncultivated foods may be the last frontier of resistance. These foods are among the last to be commodified, claimed by intellectual property rights, bio-pirated or simply wiped out with encroaching developmental pressures. The 2020 calendar is our way of paying homage to this knowledge. Urban foraging is a fad in the West that will have its heyday and fade away to be replaced by the next big thing.  In traditional societies everyone is a foodie, everyone is a forager. 
Today, survival for cultivators and uncultivators alike depends on people's efforts to protect the land, water and forests.  AID supports programs in sustainable agriculture, watershed development, and community organizing for forest rights as well as in the interconnected spheres of health, education, civil rights and livelihoods. Severe storms and drought compel us to act on climate change and learn not only to cut emissions but to preserve ecosystems and the skills that allow the wild to thrive.
With warm wishes for peace and joy in the coming year we welcome you to join AID near you.