Unlocking the Crisis: Rural Women, Work and Hunger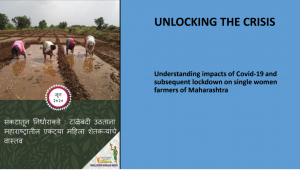 Women farmers in 14 districts of the Vidarbha and Marathwada regions of Maharashtra talked about the impact of the pandemic on their lives and livelihoods with the Mahila Kisan Adhikar Manch, whose report, Unlocking the crisis along with an overview and some personal stories along with some urgent steps required to address the critical weakness of public systems, poor infrastructure in public health, the public distribution system, water and sanitation, and shelter homes for violence survivors, among various other facilities. This, along with the depletion of scarce natural resources, has added to the burden of women's unpaid work.
AID will host a webinar with agriculture partners on Sunday June 28. Seema Kulkarni from MAKAAM will talk about the findings and the remedies that people are seeking to address the ongoing crisis.
Locked in a Crisis: 
Concerns of Rural Women
Seema Kulkarni ([email protected]) is with the Society for Promoting Participative Ecosystem Management and is a member of MAKAAM.
This article is based on the documentation of the issues faced by women farmers across 14 districts of the Vidarbha and Marathwada regions of Maharashtra. More than ever, the present pandemic has exposed the critical weakness of public systems, since consistent expenditure cuts in the social sector have led to poor infrastructure in public health, the public distribution system, water and sanitation, and shelter homes for violence survivors, among various other facilities. This, along with the depletion of scarce natural resources, has added to the burden of women's unpaid work.
The author acknowledges the insights and experiences shared by Mahila Kisan Adhikaar Manch (MAKAAM) partners across 14 districts of the Vidarbha and Marathwada regions of Maharashtra. She also acknowledges the comments of the anonymous reviewer.
The COVID-19 pandemic context foregrounds the question of women's unpaid labour more than ever. With depleted and scarce public ­resources like food and healthcare, the demand on women's labour is increasing, forcing them to provide for care on the one hand and generate incomes to compensate for the losses incurred during the lockdown on the other. If these women are not supported in the immediate and ­medium term, the burden on their health and well-being would ­become unbearable.
Among the large sections of informal sector working women who face this situation, women farmers too are included. They comprise cultivators, wage labourers, the landless, and those engaged in poultry, livestock, forests, fisheries, etc. They ­belong to various socio-economic and religious groups. Most among them have no assets and little voice and recognition as workers or as farmers in their own right. Women farmers' voices have been less documented in terms of how the lockdown constraints at home and outside have affected them, and what they expect from governments in this regard.
In Maharashtra, the Mahila Kisan Adhikaar Manch1 (MAKAAM) has been ­responding to the COVID-19 crisis while documenting a range of effects on rural women engaged in farming and allied activities. This is towards proposing short- to medium-term strategies for ­reviving livelihoods, and seizing the ­opportunity to suggest a paradigmatic shift in the way we understand rural women linked with agriculture and ­allied activities. The author, along with colleagues in MAKAAM, has initiated conversations from the last week of March 2020 onwards with women farmers across 14 districts of the Vidarbha and Marathwada regions of Maharashtra to document concerns and suggest ways forward. While the concerns discussed here are faced by women farmers at some level in pre-lockdown times, the pandemic and the subsequent lockdown have aggravated the situation and ­precipitated a crisis.
Looming Hunger
The Pradhan Mantri Garib Kalyan Yojana (PMGKY) did bring some relief to the poor, although it was woefully inadequate in both scope and implementation. A promise of 5 kilogrammes (kg) of free rice, and 1 kg of dal was made for the existing beneficiaries (listed as priority households, Annapurna and Antyodaya Anna Yojana) under the National Food Security Act (NFSA) 2013, excluding those without ration cards or with problems associated with its verification. With no cash in hand, women could not buy ration even as the public distribution system (PDS) demanded that they pay for their quota upfront. The 5 kg of free rice announced under the PMGKY arrived late and, adding fuel to the fire, Food, Civil Supplies and Consumer Protection Department, Maharashtra government issued a letter stating that the free rice quota could only be availed after purchase of the regular quota dated 31 March 2020 (Government of Maharashtra 2020). While the government proposed this "first buy one, then get one free" model to the poor during an unprecedented crisis, the promised and much required tur dal never arrived.
Exclusion from the PDS continues since large numbers of single women, particularly vulnerable tribal groups (PVTGs), and Denotified and Nomadic Tribes (DNTs) are without ration cards. Women from farm suicide-affected households and single women living in separate homes continue to be documented in the joint family ration cards and are also left out. Of the 700 single women that MAKAAM extended relief work to, 200 (30%) did not have separate ration cards and, therefore, could not access the PDS. With no cash in hand to buy from the open markets, and onerous documentation required to access the PDS, the reality of looming hunger confronted several of them. The old ­infirmities around ration cards resurfaced in a virulent form in the present pandemic, exposing the failure of a ­targeted PDS (MAKAAM 2020).
Inaccessible Cash Transfers
Cash transfers were made under the PMGKY to about 20 crore Pradhan Mantri Jan Dhan Yojana (PMJDY) women account holders, but since about 23% of the PMJDY accounts were inoperative until 2018, many rural women would have been excluded from this benefit. Those who did receive these and the ex gratia pension amounts, could not ­access the cash as banks were inaccessible during the entire period of the lockdown. Sakhubai, a widowed woman from the Kolam tribe from a remote village in Yavatmal district, complained that the closest bank is about 40 km away so she was unable to go and collect her cash. If measures such as bank mitra or bank correspondents were in place to ensure that cash transfers reach their hands rather than stay in the banks, poor vulnerable women would have been able to partly tide over the crisis. The Andhra Pradesh model of village volunteers would have been useful in delivering cash to the poor when they needed it the most (Print 2020).
No additional allocation was made under the Pradhan Mantri Kisan Samman Nidhi (PM-KISAN), but an advance of ₹2,000 was made. Even this inadequate amount is inaccessible to women farmers, tenant farmers, and landless labourers engaged in agriculture, since the scheme is linked to ownership to land.
The period of the lockdown coincided with the lean season when the Mahatma Gandhi National Rural Employment Guarantee Act (MGNREGA) works are most needed. With effect from 25 March 2020, all works on these sites across the country came to a complete halt, affecting a huge number of workers. As per the 2020–21 MGNREGA data, of the total 2.2 crore enrolled workers, only 53 lakh were active workers2 employed on these sites in Maharashtra (MGNREGA2020).
As per the MGNREGA website, in Mah­arashtra, 71 lakh person-days of work was generated in April 2019, as against only five lakhs person-days generated in April 2020, which is a 14-fold reduction. This amounts to a saving of close to ₹150 crore for the government, which should be utilised along with an additional ­allocation to pay for at least 30 days of the lost wages of the 53 lakh active workers in the state. MGNREGA is an important employment opportunity for women, with around 45% to 50% of MGNREGA workers being women.
Erosion of Livelihoods
Rukminitai is a single woman tenant farmer from Savner taluka of Nagpur district in Vidarbha. She pays rent for a small piece of land and purchases water, cultivating vegetables and Bt cotton to make ends meet. This year was different for Rukminitai as she was unable to harvest her cotton fully and sell what she had; now she has no cash to invest for the upcoming season. There are no ­buses to take her vegetables to Nagpur city, forcing her to largely destroy her produce. She is being severely harassed by the neighbouring farmers who ­withdraw water going to her farm, or provoke the landowner into discontinuing her lease, or delay her produce in reaching the ­market.
Rukminitai's story exemplifies the travails of women cultivators, while highlighting the differential impacts they face during lockdown. Cotton growers, soya bean and vegetable growers from farm suicide-affected districts of the state have been unable to fully harvest their produce, and those who have harvested are unable to sell it. Woman-headed households often do not own private vehicles, and depend on private agents for marketing their produce, as they are willing to procure their produce from their homes. Government markets have been inaccessible to them not just due to distances, but also because of burdensome documentation required and inordinate delays in payments. These women have, thus, never been part of the minimum support price (MSP) scheme of the government, preferring private agents at the cost of losing out on better prices offered by the government. Negotiating with private agents, however, is fraught with its own set of pitfalls and calls for compromises on several other fronts, which include obliging to "favours" outside of the "market relationship." The lockdown, however, has meant that these private agents have not been able to reach their homes to collect their produce. Similar stories were narrated from across Maharashtra whether with mango growers, cashew growers or soya bean cultivators.
As on 2018, across the country, 49 lakh women were reported as being part of dairy cooperatives, most of them being smallholders (Department of Animal Husbandry 2019). Dairies are a big economic support for women in most parts of rural Maharashtra as well. With the disruption in transportation, dairies were shut, and closure of tea shops and restaurants meant that even small-time sale of milk was not possible for these women. Some converted the milk into curds or buttermilk and tried to sell it within ­villages. But, like in the case of vegetables, local markets for milk too became saturated, resulting in wastage and income loss for women.
Poultry was particularly affected due to imaginary fears of it being the reason for contagion, leading to a sharp decline in the demand for eggs and chicken. Women managing backyard poultries had to sell chicken at prices as low as ₹5 to ₹10 per kg, although the cost of production was around ₹60 to ₹70 per kg.
Tribal women, engaged in collection of non-timber forest produce (NTFP), ­reported that despite advisories to district magistrates, the procurement of mahua, charoli and other produce was not being initiated. Collection of tendu patta and other forest produce, being in process now, requires immediate attention ­towards auction and procurement.
Several of these women are also ­engaged in agricultural labour and some are entirely dependent on it. Due to the lockdown, all wage work stopped, including that on the MGNREGAsites, and for those who depended entirely on wage work, a looming, daily hunger was a reality. Sugar being categorised under essential commodities, cane cutters were forced to stay on and work under unhygienic conditions. Among them, the pregnant and lactating women could not ­access health services, and had to continue with their 15 hours work schedule in addition to the unpaid domestic ­labour. Distressing tales by sex workers, and DNTs lacking any documentation and voice, are yet to be fully told.
Even as women were coping with food insecurity and widespread economic ­impacts, they were faced with violence and harassment in domestic and public spaces. State machinery ensured through physical violence that they did not enter into public spaces to sell their produce. They were forced to pawn the little gold they had to make ends meet, most did not have any cash or other assets and some were reduced to begging or depending on the goodwill of fellow villagers or civil society support. Impacts on mental health have also been severe, and outreach of health facilities has been totally inadequate.
Urgent Steps Required
More than ever, the present pandemic has exposed the critical weakness of public systems, since consistent expenditure cuts in the social sector have led to poor infrastructure in public health, PDS, water and sanitation, and shelter homes for violence survivors, among various facilities. Withdrawal of public resources and depletion of scarce natural resources inevitably add to the burden of women's unpaid work.
Keeping in view this context exacerbated by the lockdown, certain measures requiring immediate action have been outlined here. Prompt actions by various existing programmes and sche­mes of the departments of agriculture, rural development, tribal development, forests, and women and child development must be converged towards ­developing an economic package for women farmers.
Expanding PDS: It is important to re-emphasise here the persistent demand across the board to universalise PDS, as an immediate as well as long-term policy. As per the Food, Civil Supplies and Consumer Protection Department of Government of Maharashtra, as on September 2018, the total number of beneficiary ration cards holders under the NFSA 2013 in Maharashtra are 1.57 crore (Government of Maharashtra 2018). Considering population projections for 2020 (12.2 crore), NFSA coverage for Maharashtra would be in the range of just 57% (Scroll 2020). States like Tamil Nadu and Chhattisgarh have been able to reach around 80% PDS coverage with several innovative measures; Maharashtra, being a rich state, should also invest in increasing PDS coverage above what the centre allocates. If Maharashtra, in this unprecedented crisis, decides to provide ration to 80% of its population for six months, we would require about 5.8 million tonnes, which is just 7.5% of the available stocks in the godowns (FCI data for March 2020). This would cover most of the vulnerable and disenfranchised sections of the population who are badly hit by this pandemic (Sinha 2020).
Further, for timely procurement at MSP, the government procurement system needs to adopt new models enabling procurement at the village level without any ­delay in payment. This would have a positive impact on women farmers' access to fair markets.
Seeds and agricultural inputs: Preparations for the upcoming kharif season would start soon. Women farmers across the state are concerned about the choice of crops, availability of seed and marketing of the produce. Those who grew Bt cotton are hesitant to grow the same crop, since the rabi cotton ­remains unsold. In our series of telephonic interviews, some of the women farmers said they would prefer to grow jowar, bajra and other food crops instead of cotton, to ensure food stocks that enable them to withstand disasters, such as the present one. While many of the single women we spoke to want to make careful choices and prioritise food crops over cash crops, while reducing the cost of cultivation with lower chemical and fertiliser inputs, they need support to make informed choices. The agriculture department, along with the Krishi Vigyan Kendras (KVKs), which are presently not providing such support, need to send advisories and hold consultations, especially with women farmers, and provide agricultural inputs accordingly.
Making women creditworthy: For rural women engaged in multiple livelihood activities without ownership of assets, access to institutional credit is difficult. They depend largely on self-help groups (SHGs) for small loans, or increasingly now on microfinance institutions (MFIs), which often offer loans at high interest rates ranging from 24% to 36% (Parth 2020).
Most rural livelihoods programmes, including the National Rural Livelihoods Mission (NRLM), focus on improving women's creditworthiness by forming them into SHGs, thereby evading the question of improving their access to institutional credit. As workers in their own right, women's access to credit should be a priority, irrespective of their asset holding, especially in the present situation. Many women are looking to invest in seed and other agricultural inputs, and livelihood assets, but cannot go to banks for loans. The loan waivers have not been implemented, and so fresh loans cannot be availed.
The PM-KISAN scheme and the interest subvention scheme for institutional credit excludes women farmers, tenant farmers and the landless who constitute a major part of the agricultural economy. The present crisis is an opportune moment to expand and enhance PM-KISAN to ­include all those who are engaged in ­rural livelihoods, who should be given at least `15,000 annually per household. However, at this time, more than availability of loans, women require financial support to cultivate their farms.
Re-imagining MGNREGA: Single women and women farmers from farm ­suicide-affected households have a major concern regarding the lack of enrolment in MGNREGA. Of the 700 women across 14 districts of Maharashtra to whom MAKAAM extended COVID-19 ­relief, only 27% reported having a job card. For such women, it is imperative that job cards are issued with immediate effect, which is especially feasible since no documents are needed for enrolment for job card under MGNREGA.
While maintaining physical distancing and other COVID-19-related precautions, MGNREGAworks related to building of productive assets on individual farms could be initiated with immediate effect. These should mainly be related to soil and water conservation works, which are crucial for ensuring availability of water in the peak summer. For landless labourers, including single women, these works could be started on community and forestlands, for soil and water conservation and collection of forest produce, to mention key areas.
With returnee migrants, more family hands will be available for farm labour, thereby reducing the need for wage ­labourers in farming. Keeping in view the single women whose livelihoods largely depend on wage labour, a reimagined MGNREGA would need to be employed by ­introducing works, such as making of soaps, masks, compost and biopesticides, thus providing essential goods and services to the rural sector.
To compensate for the loss of work during the lockdown period, an additional 100 days of work per family should be provided, covering returnee migrants as well as women and other wage labourers.
Mobilising local institutions: Maharashtra has a vibrant civil society, including networks of SHGs, farmer producer organisations (FPOs), panchayats and their committees. Various social org­an­isations and non-governmental organisa­tions (NGOs) are also active in the state. Participation of such local groups is ­essential for a robust response in the short-, medium- and long-term ­period. Village water and sanitation committees, MGNREGA, and watershed committees could come together to prepare plans for works that could help build ­individual and community assets for ­assured incomes, and water supply FPOs should be encouraged by the government to consider doorstep procurement.
Structural Change
Despite their wide-ranging presence in agriculture, women have been deprived of voice, recognition and entitlements in this sector. This historical marginalisation has been exacerbated during the present pandemic and lockdown situation, with a range of implications disc­ussed in the article. As the first step, the state needs to expand and improve ­responsiveness of a range of social and economic protection measures immediately, to minimise this exclusion of rural women and other deprived sections.
However, the epidemic situation also opens a window for reimagining and ­restructuring various forms of social security and protection, along with developing decentralised models for promotion of sustainable rural livelihoods and ecological agriculture, with women across socio-economic groups kept in ­focus. It provides an opportunity to bring nutrition and food security at the centre of agriculture with the promotion of food crops, millets, using traditional knowledge around seed and cultivation practices. This would also call for reorienting markets and procurement policies.
The current crisis has demonstrated that it is not a crisis of production alone, but that of social reproduction of the life-producing activities. The economy was brought under a lockdown to ensure life and safety of the people, but at the huge cost of the unpaid and underpaid labour of essential workers and women. The pandemic provides an opportunity to correct these anomalies.
Notes
1 MAKAAM (www.makaam.in) is a national network with a presence in 22 states of the country and is committed to giving voice, recognition and entitlements to women farmers.
2 Active workers are those workers who have worked on MGNREGA sites at least once in the past three years.
References
Department of Animal Husbandry (2019): "Data on Total Number of Women Engaged in Dairy," http://www.dahd.nic.in/about-us/divisions/cattle-and-dairy.
Government of Maharashtra (2018): "Data on ­Ration Card Beneficiaries," http://mahafood.gov.in/website/english/PDS4.aspx.
— (2020): "Letter from Food and Civil Supplies Department Regarding Distribution of Free Rice," http://mahafood.gov.in/website/PDF_files/cr60_merged.pdf.
MAKAAM (2020): "Stories of Single Women in the Present Pandemic," https://www.youtube.com /playlist?list=PLCtyiYx-c8q7KH58lfOdw5Dls4P26JEbR).
MGNREGA (2020): "Statewise Data on Total Workers and Active Workers," http://nregasp2.nic.in/netnrega/homestciti.aspx?state_code=18 &state_name=MAHARASHTRA.
Parth, M N (2020): "MFI Loans: Fear and Loathing in Lockdown Times," 4 May, https://ruralindiaonline.org/articles/mfi-loans-fear-and-loathing-in-lockdown-times/.
Print (2020): "Andhra Pradesh Government to Distribute Ration and Cash Relief at Doorstep," 25 March, https://theprint.in/india/andhra-pradesh-govt-to-distribute-ration-cash-….
Scroll (2020): "100 Million Indians Fall through Gaps in Food Safety Net, Economists Urge a Rethink on COVID-19 Relief," 15 April, https://scroll.in/article/959235/100-million-indians-fall-through-gaps-in-food-safety-net-economists-urge-rethink-on-covid-19-relief.
Sinha, Dipa (2020): "Food for All during Lockdown Times: State Governments Must Universalise PDS," Wire, 20 April, https://thewire.in/rights/covid-19-lockdown-food-supply-pds.