Tribute to Dr. Jonathan Fine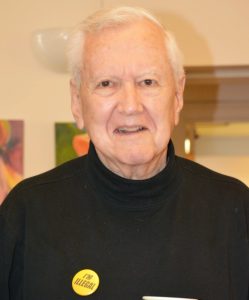 "And who are you?"
Whenever somebody stood up to talk or ask a question without introducing themselves, these words would be shouted with regularity in what sounded an almost unfriendly tone. It was the Seattle AID conference in 2010. And the voice belonged to Dr. Jonathan Fine, who many of us would get to know over the years. Those who got to know him (and many of us did) would realize that not only did Jonathan not mean to be unfriendly (his compassion and large heart shone through once you knew the man), he also reminded us all to be considerate to other listeners not assuming they knew who we were (and perhaps in his own way remind us not to take ourselves too seriously when we went on long monologues!).
Jonathan clearly had a burning conviction for the rights of the poorest especially their right to health and someone who would inspire many of us with his energy, passion and ability to bring structure and purpose to our endeavors to help the most marginalized. Listening to Yogesh Jain speak in Boston once was enough for him to start planning a visit to remote Chhattisgarh at the young age of 80+! He knew he had to do something and do something he would!
JSS team phone calls would happen with regularity, minutes and actions would be typed up, agenda for the next call would sent in advance – all thanks to Jonathan. After his first visit to JSS, he quickly identified that human resources were critical to JSS's long term sustainability as much as financial resources (if not more). He took it upon himself to spread the word and seek health professionals looking for short or medium term internships at JSS.
He would go back to JSS a few times, spending long periods of time in some cases and he decided that documenting the stories of the people who waited outside the JSS OPD was something he really wanted to do. And so he started a blog called "Poverty and Health" and while he was writing these stories, he would follow people to their villages with a translator in tow and spend hours learning about the people behind the statistics and illnesses and documenting their lives in addition to what their illnesses highlighted. These blogs were at once inspiring and heartbreaking and many AIDers followed them keenly and learnt much. The blogs have since been published as part of the JSS Rural Health Atlas.
Another abiding memory of Jonathan is how quickly he understood the importance of the case of Dr. Binayak Sen. His background in health and human rights made him especially passionate about his case and he even made the trip and went to the sessions court in Raipur during one of Dr. Sen's hearings, which the local press picked up on. Many of us still remember getting the thrilling news of Dr. Sen's bail during the Duke AID conference!
Many moments with Jonathan (in person and remote interactions) remain etched in our memory. And it is seldom someone has the kind of impact he had on the work we did/do in such a profound way. What a wonderful man he was and I feel blessed to have crossed paths with him.
"And, who are you?!" – Jonathan clearly revealed to us over the years who he was. And maybe we can keep asking ourselves that simple question from time to time in the hope of getting closer to knowing the answer.
May you rest in peace, dear friend.