The unsung Heroines of India's Freedom movement- Phulo Murmu and Jhano Murmu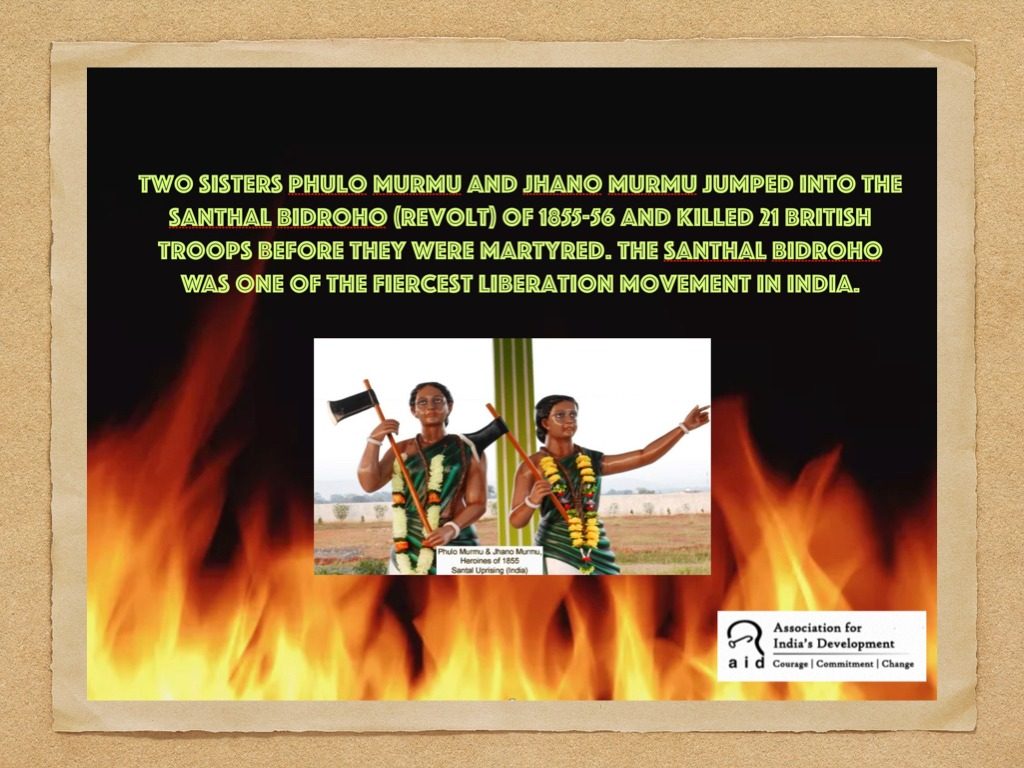 Santhal people, the original inhabitants of Chhota Nagpur Plateau and Santhal Parganas, had lived in this area rich with natural wealth as masters of their lives. Their system of communal holding of land sustained both them and ecology of the land. In this egalitarian system, land was never private property. That all changed when in 1800s, the British East India Co. staked a claim on this land and began selling it to rich private landlords ("Zamindar"), and the Santhal people found themselves trapped in cycles of debt and bonded labor .
The Santhal women and men took up their traditional bow and arrows, spears and knowledge of the land against the British colonizers and the oppressive Zamindari system. This rebellion, or "Hool" (Santhal word for 'liberation movement') was led by Phulo and Jhano Murmu along with their brothers, Sido, Kanhu, Chand and Bhairav Murmu.
According to stories passed on by the Santhal people, the two sisters Phulo Murmu and Jhano Murmu jumped into the battle fray with their brothers, and reportedly killed 21 British troops before they were martyred.  The British brutally quelled the movement after killing over 25,000 tribal people. The Santhal Bidroho (revolt) of 1855-56 was in all probability, the fiercest liberation movement in India next to the "Sepoy mutiny" of 1857.
This rebellion eventually resulted in Chhota Nagpur Tenancy Act (1908) and Santhal Pargana Tenancy Act (1912), enacted by the British, to restrict transfer of land from tribal people to non-tribals. These acts wouldn't have been possible without the bravery of Phulo and Jhano Murmu. In the context of histories of India, many stories remain untold, conveniently left out, purposefully removed or just simply forgotten. Santhals, Orao, Murmu- the native tribes of Jharkhand – considered illiterate, naïve, and backward by mainstream modern society – were among the first torch bearers to rebel against British towards the freedom struggle.