The NGO:
Jan Swastha Sahyog (JSS) is a non-profit organization based in Bilaspur, Chhattisgarh. JSS works with the mission of reducing inequities in health and the resulting socioeconomic marginalization through a multi-tier effort that brings together patient care and community health programs. Their work impacts a population of nearly 500,000, most of comprise adivasi communities residing in forested areas.
The Project:
'Phulwaris' are community-run creches that were started ten years ago by Jan Swastha Sahyog (JSS). The principal goal of the Phulwari program is to combat malnutrition in children between the age group of 0.5-3 years. Since its inception, the Phulwari program has expanded significantly and JSS now runs 86 'phulwaris' across 38 villages with an enrollment of approximately 1200 children.  By providing a reliable day-care service to the rural poor, the Phulwari program has not only helped alleviate child malnutrition, but has also solved other social problems like dropping out of older kids from school and staying back of women from work to take care of their infants and even improved the inter-caste social dynamics.
Nutrition:
Under-nutrition in children below 3 years of age is a very serious problem among the poor. According to the National Family Health Survey report, 47% children in Chhattisgarh are malnourished and 16% are severely malnourished. The same report also reveals that Chhattisgarh has the highest proportion of underweight women in the country (over 40%). Under-nutrition can lead to increased chances of falling ill and sometimes even dying. It certainly causes poor intellectual development in a child affecting his/her cognitive capacities. Under-nourished children grow into under-nourished adults with poor working capacity and hence earning capacity, keeping them in a poverty trap. Undernourished girls grow up into weak mothers and give birth to under-weight babies, thus maintaining the vicious cycle of ill health.
To combat this issue, Phulwaris provide wholesome meals consisting of sattu (wheat, barley and peanuts), khichdi (rice and lentils) and boiled eggs along with clean water. The Phulwaris also provide nutritional supplements (iron and folic acid), together with essential vaccines. They also have separate playing and napping areas for the children. Crèche workers are trained in basic hygiene, childcare and nutrition and in managing common illnesses like fever and diarrhea. A network of health workers is also present in each village that monitors the children's health on a weekly basis and take care of more serious illnesses.
Data from villages with Phulwaris over two years has shown a significant reduction in wasting and under-nutrition among these children, but not in stunting. One explanation of this is the lack of proteins and calories in the food provided to these children at their homes. Even so, the overall picture is quite encouraging with children becoming more active, healthy and hygienic as a result of their participation in the Phulwari program.
Early child care and education: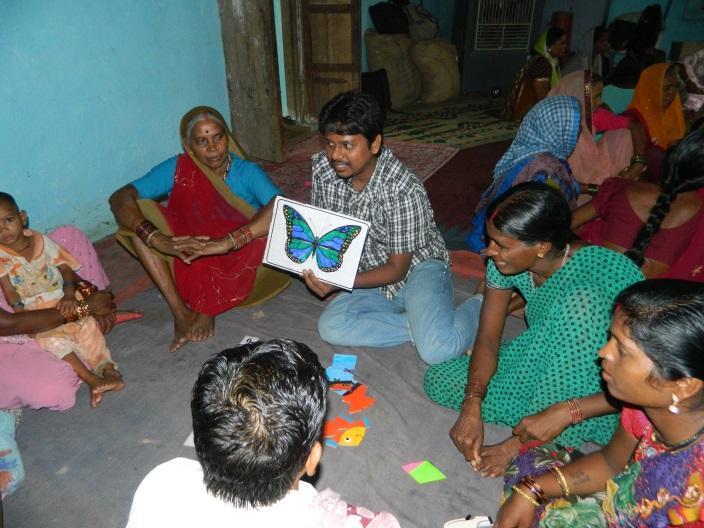 Since 2014, JSS has also started an 'early child care and education' program in some existing phulwaris wherein they provide educational toys and games. Crèche workers are trained to engage in games/songs to stimulate learning in the children. In the future, JSS plans to expand the reach of the Phulwari program to about 10 new crèches per year while also augmenting the infrastructure of the existing phulwaris. They are also planning to build 2 model phulwaris for demonstration and training purposes.
Policy changes:
The problem of under-three malnutrition has been highlighted time and again by JSS over the last two years. As a result of their successful advocacy at the national level, Public Health Resource Network has launched a similar program in Jharkhand, Bihar, Chhattisgarh and Orissa under the project AAM (Action Against Malnutrition) in collaboration with JSS and some other NGOs. With the support of JSS, the Madhya Pradesh government has also launched its own Anaganwadi-cum-creche scheme on a pilot basis in 100 Anganwadis. Many more organizations have approached JSS to get training in running rural crèches and have gone on to start their own.
Funding:
AID has supported the entire expenses for the Phulwari program for the past two years. This has be
en possible due to a generous donation by Mr. Peter White, CEO JF White & Co., Framingham MA. We are extremely pleased to report that
Mr. White has recently made another commitment to fund the program for the next five years. We hope that the security of these funds will allow JSS to significantly invest its energies in expanding the scope of the program with focus on child education and advocacy, while being assured that the essential needs of the program (daycare and nutrition for 1200 children) will be met.

Impact:
Creche facilities for 1200 children in 38 forest villages
Steep reduction in malnourishment in under 3 children
Enables both parents to work without worry
Enables older sibling to attend school and not having to care for the younger ago