Strong ground knowledge is helping Janpath respond to the pandemic
Danta block of Banaskantha district of Gujarat is a predominantly tribal area. The Govt Community Health Center has been constructed but is not functional. Janpath is working with the Govt to turn this CHC in Mankadi village into a 20 bed COVID center. The CHC serves about 60 villages with a population of 25000 people.
With the help of youth in the tribal communities, Janpath will be raising awareness to dispel vaccine hesitancy and other protocols of masking, distancing and isolation. They have already contracted a group to set up oxygen pipelines in the hospital. Orders for oxygen cylinders are in place, but as we know these are not easy to come by. A new school building might be used as a quarantine center for people who do not need intensive care.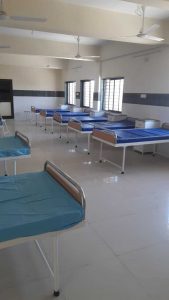 Having worked a long time in the communities here, people in Janpath know that several people from the village accompany a sick person. For that they are setting up a canteen to serve simple food. AID volunteers have mobilized some equipment for this center and will continue to do so.
Groups like Janpath who understand the terrain and the people so well can play a crucial role in stemming the pandemic across India. We request everyone to come forward and support groups like Janpath in this critical hour. 
Update on 14 May: The COVID centre is now functional! It was set up in less than a week.
Latest updates on COVID relief
Donate to COVID Relief Fund