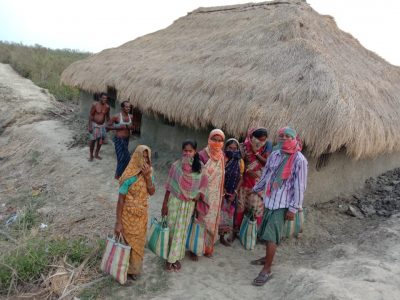 Rebuilding update from Sunderbans: June 10
Here is a ground update from our partner Chetana Sangha for the period between June 5 and June 10.
Primary relief: Chetana saw at least 8 families in the Hatisur area, Achintanagar gram, who are in an especially dire situation. They have nobody at home who can earn money, broken houses, and no food at home. In some cases women have been left by their husbands. Chetana decided to give a number of supplies, including polythenes, mosquito nets, mats, chira, biscuits, soaps, flour, soybeans, chuun, mask, bags, and napkins. They furthermore gave tarpaulins to one family.
Seed distribution: In the last week, Chetana ordered seeds from Raydighi. By June 8 all the members visited the families who got the seeds and checked for proper utilization. They showed 8 organic farmer families how to make organic fertilizers.
Fighting COVID-19: Chetana also arranged a discussion on COVID-19 and Amphan. The discussion was mainly about the humanity and values that nature has been teaching us. One piece of sad news is that Chetana is seeing COVID positive patients very close to their office. They are being sent to Beleghata hospital. One person tested positive in Harendra Nagar gram. Additionally, Chetana distributed masks to 30 people.
Pond cleaning: Chetana worked collaboratively with the gram panchayat to prepare a list of 115 ponds to clean in Kuemuri gram. They have started working on that project. Chetana has started cleaning and pumping out the ponds in Lakshmipur. They finished rewatering 26 ponds in Kuemuri village and 15 ponds in Lakshmipur village.
Organic farming: Chetana visited a total of almost 150 families in the last week, and showed them how to make fertilizer through vermicomposting. They also distributed earthworms. 70 women from various families came to a discussion meeting on June 10 to discuss how to plough the soil in an organic way.
AID Responds to Amphan
Donate to Amphan Relief Fund