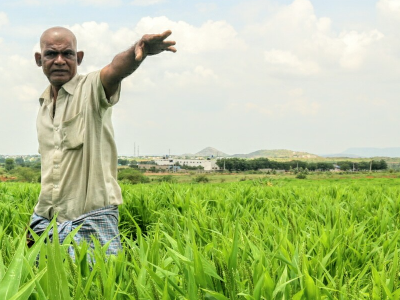 The Prodigious Roots of Moula's Brown Top Millets
S. Moula's family owns 5.7 acres of land in Madigubba, Anantapur District, Andhra Pradesh.  In his youth, he didn't take up farming, opting instead to work in media.  His mother took care of the farm, growing groundnuts.  Today he is not only a farmer, but also a processor and a baker.   This is a story about Moula's journey back to the land, and the steady growth of millet cultivation spreading across thousands of acres in Anantapur District.
In 2009, Earth 360, a millet processing unit in Kadiri, a town 30 km from Madigubba sought to help farmers facing drought find a lasting solution through millet cultivation.  A drought-resistant crop, millet in all its varieties is nutritious and a key component of holistic and sustainable agriculture and food security. Moula's family farm was one of several selected to serve as s demonstration plot, with support from AID.  
More than a hundred farmers from Madigubba and neighbouring villages visited Moula and gained the skills, resources, and confidence they needed to sow millet.  From Chenekothapalle, Timbaktu Collective selected farmers and sent them to learn about millet.  At home in Mudigubba, Moula's mother was extremely excited about the results of growing millet and shared her enthusiasm with all her friends and their network and families.
In 2010, Moula joined the Earth 360 team in Kadiri.  He was responsible for developing value-added products such as sweets and snacks, and overseeing the catering for Millet Melas that Earth 360 would organize to promote millets in different venues.
Moula continued growing millets every year, starting with korra – foxtail millet.  In 2013, M.N. Dinesh, founder of Earth 360 encouraged people in Rishi Valley, a boarding school in the neighbouring Chittoor District to grow brown top millet.  Moula saw the crop, got the seed and started sowing. As more people are becoming aware of millet's nutritional value, Earth 360 is finding that more farmers are eager to grow it.
Anantapur: On the Frontlines of the Millet Revolution
A regular part of people's diets a few generations ago, millets have all but disappeared from the plates of most Indians.  Sama, korra, arika, variga and ooda are just some of the varieties that are making a comeback among those who are rediscovering their value.  Ragi, or finger millet led the revival over 2 decades ago and in recent years many other varieties have been appearing in the markets of towns and cities and even on cooking shows and blogs.
Earth 360 aims to popularize these grains while ensuring that they remain affordable to ordinary people – the vast majority of whom live below the poverty line.  More fundamentally, Earth 360 sees millet not merely as a crop that delivers nutrition to the human consumer, but as part of an ecological approach to agriculture and community life that improves food and livelihood security for all.  
Intercropping: Improving Food Security
Peter Bakos, who is working in Kadiri with Earth 360 to help small farmers grow and process millet noted the benefits of intercropping millets.   "Browntop, proso, foxtail, little or barnyard millet have a crop duration of 80-90 days, which is half the duration for tur dal (pigeon pea).  When intercropped, they act as a nursery for the tur dal whilst it is young and saves having to weed between rows.By the time the millet is harvested the tur is well rooted and established, it can then expand and flourish to the full extent of the row width.
Intercropping, natural pest management, use of millet stalks for fodder and household products are just some of the practices that come along with the millet revival.  Earth 360 also encourages its staff to learn the skills involved in every aspect of running the plant so that they might replicate this effort in other parts of the district, or in other districts.
Today Moula grows foxtail, brown top and proso millets, intercropped with tur dal (pigeon pea).  He has started a processing unit with a grader, destoner and a dehuller.  He also runs a bakery, where he makes millet-based snacks and baked goods.  Several people work on his farm, weeding and harvesting as well as in the processing unit and bakery.
AID has supported the Millets Initiative since 2009. 
Photographs:  Peter Bakos
Further Reading
Millet Network of India, Deccan Development Society and Food First Information & Action Network: "Millets: Future of Food and Farming" (2009).
Includes the names of 8 varieties of millets in regional languages of India.
Earth 360: an enterprise involved in bringing Millets back into mainstream diet and cropping patterns.