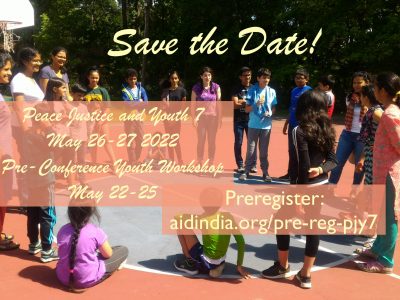 Pre-register for Peace Justice and Youth 2022
With greater hopes for light at the end of the pandemic tunnel including vaccinations expected to be approved for children aged 5 and up we are tentatively and optimistically planning ahead for the 2022 Peace Justice and Youth conference, traditionally held on the Friday before the AID conference, which takes place over the weekend of Memorial Day at the end of May.  
In 2020 we had planned to meet in Houston but like all events converted both conferences to virtual over the same dates.  While we started planning a virtual conference for 2021, the COVID surge in India took up all human resources of AID and we could not go forward with that.  Some chapters have already started having in person events outdoors and volunteers are hoping that a conference in 2022 would also be possible.
We are also looking into the possibility of a week-long youth workshop either preceding the youth conference or as a stand-alone event in the summer.  Families who pre-register will have an opportunity to indicate their preference and will be kept up to date as plans take shape.
While we have no information on the venue, to jump start the youth conference component, if you would be interested in attending please preregister using this form:
Read about past conferences:
Sowing seeds, saving the farm: 4th Peace Justice and You(th) conference
3rd annual Peace Justice and You(th) conference
2nd Annual Peace Justice and You(th) 2016