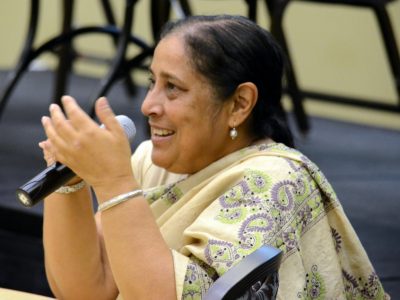 AID Volunteers Remember Ilina Sen
AID volunteers deeply mourn the loss of Ilina Sen, a noted academic, researcher, activist, writer and most of all a strong voice for the most vulnerable.
We first crossed paths with Ilina in 2006 when we were introduced to Rupantar, the NGO in Raipur, Chhattisgarh that she started with her partner, Binayak Sen, the noted human rights activist and doctor. AID supported the work of Rupantar in the area of preservation of indigenous rice varieties and sustainable agriculture for about 5 years.
As we got to know her over the years, Ilina became an inspiration and source of strength to the volunteers in AID. Her life has been an example of strength, steadfastness and love for the marginalized people of India. In addition to meeting her in India, we have had the opportunity to interact with her at two of our conferences in the US. We have seen her as a model of equanimity and hope even while her family was facing very difficult times.
Her thoughts, actions and intellectual work will continue to inform and guide AID's work. In the last few years, she continued to keep up connections and communications with many even as she battled cancer with a smile.
We have lost a friend and a guide as have all the people whose lives she touched. The most meaningful way for us to honor her would be to re-dedicate ourselves to the causes she stood and fought for – to question patriarchy in all its forms, to strive for a more just society and to make meaningful change with humility and good humor.
Our strength and love for the family.
With sincere condolences,
AID Volunteers