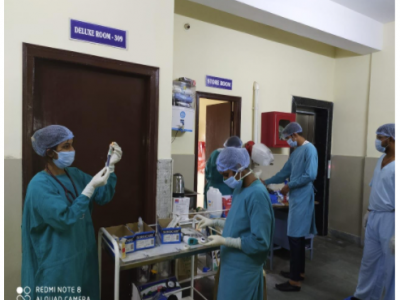 Free Covid care through NBJK helps save lives in Bihar and Jharkhand
Right from the arrival of COVID-19 in March 2020 last year, Nav Bharat Jagriti Kendra (NBJK) has shouldered vital responsibilities in different districts of Jharkhand and Bihar. NBJK converted its eye hospital and school into quarantine centers for migrant labourers, ensured medical utilities for Government hospitals/health centers, and arranged for isolation centers and community kitchens. NBJK also organized the distribution of dry food materials for marginalized groups, including people with disabilities. It made potato and wheat seeds available for migrant workers to promote farming as an optional livelihood source.             
Amid the deadly second wave of this pandemic, NBJK immediately responded by establishing a Covid Care Center at its Loknayak Jaiprakash Eye Hospital situated in Bahera village of Chauparan block, Hazaribag district. The center is located 50 km from the town, and has 30 beds including 10 oxygen supported ones. Patients are being treated here free of cost, with food, medicines, doctors, nurses, oxygen, and other facilities. It has become a lifesaver for poor villagers who could not get beds in government hospitals or afford beds in private hospitals.      
Moreover, the LNJP Covid Care Center provides a 24×7 tele-counselling helpline. Covid patients who do not want to get admitted are served in the outpatient department and given free medicines with tele-medical consultation. All services are free of cost, irrespective of district or state.
Latest updates on COVID relief
Donate to COVID Relief Fund