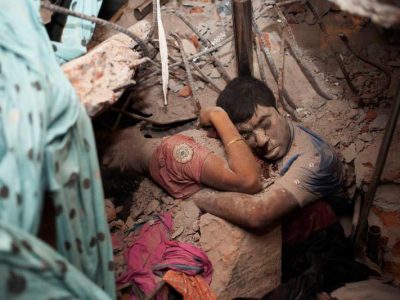 Karthik Ranganathan
Men of labels, we are – letting each one scream out for attention
A swoosh here and a fruit there.
Not a gap to be left anywhere.
Head to toe, becoming the brands we choose.
Men of labels you were, the labels of toil and exploitation.
Stitching each one, those very brands, even as they made you cry.
Seldom did I care,
where my brands came from.
They were
a given.
They were
a must.
And the brands made sure
They were
Me.
The brands did care, where you were.
Away from their civilizations.
Away from their lives.
The brands did make sure
You
Remained you.
Slaving away by the dozens, in rooms I wouldn't want to even peep into.
Enslaved to the bounds of time, of money,
by an industry that thrived on the promise on a better life.
"Whose better life," you may dare ask.
"Yours," I'd unflinchingly say,
with my labels proudly screaming "Being human"
and my belief, resolute, that "my brands" proudly give life, hope and the dare to dream.
Still, when you dared to dream and stopped to stitch,
striking for better wages, better working conditions,
I smirked.
"Where is the fire in your belly" I asked,
Ignorant of the fires that raged in your lives.
Little realizing that your lives were meant for only the cracks in my system.
Now, when your lives have finally been taken by the system you bore,
Your charred faces still mean little to me.
These fires, these broken buildings.
For, tragedies they are.
Meant to heal in time. In due course.
Not murders. Not injustices, that need to be remedied by brute force, the force of will.
For my will is no more mine
Karthik Ranganathan volunteers for AID in Bangalore. He wrote this poem after 1130 garment workers died due to the collapse of the factory building, Rana Plaza, in Dhaka, Bangladesh.
Photo: Tasleema Akhtar
Learn More
Democracy Now! Interview with Sumi Abedin and Kalpana Akhter