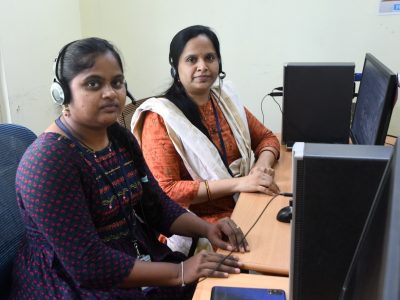 Lifeline to farmers in distress
On March 22, 2022 farmer Chinna Ramudu tried to kill himself. His borewell failed, crops were drying up due to lack of water, and loans couldn't be repaid. He couldn't even sell part of his land to repay the debt because the revenue department refused to issue his documents. When he attempted suicide, his daughter called the Kisan Mitra (friend of the farmer) helpline.
Through AID's support, the Kisan Mitra team provided Rs.30,000 ($375) to repair his borewell immediately and save his crop. More importantly, our team worked with the District Collector to release his land documents.
Picture: farmer Chinna Ramudu receives his land documents from our field team leader Bhanuja.
His daughter's call saved Chinna Ramudu's life, livelihood, and family.  We urge you to donate before the year ends so that there is a lifeline for her to call.
Give generously -- It makes a huge impact
About 12,000 farmers a year commit suicide in India, and hundreds of thousands are at the edge of despair. AID is engaging with this situation with a multi-pronged approach:
● The Kisan Mitra Helpline provides a phone number that any distressed farmer can call. Run by AID partners in Andhra Pradesh and Telangana, the helpline's field teams visit the distressed farmer in his/her village and work with district officials to ensure that the specific problems of the farmer are resolved.
● In the past year, the Helpline handled 1476 such calls (individual and collective) and pursued them until resolution. 70% of helpline cases are resolved and the benefit has reached more than 20,000 farmers.
● Where farmers have already committed suicide, AID partners work with surviving families to prevent further distress, helping 92 families in the past year establish their livelihood activities and keep their children in school.
● AID partners also engage in advocacy so that Government schemes reach the families where farmers committed suicide. This resulted in 200 farmer families getting Rs.600,000 each in Telangana, and 150 families in Andhra Pradesh getting Rs.700,000 each – a cumulative benefit of $3 million.
● To address the causes of agrarian crisis, AID promotes millet cultivation and sustainable agriculture, strives to get recognition for tenant farmers who do not own land, and ensures mitigation for farmers affected by natural calamities and climate change. Ramudu's life, livelihood, and family.  We urge you to donate before the year ends so that there is a lifeline for her to call
You can direct your contribution to AID's Agriculture and Farmers' Welfare fund by clicking here. 
Give generously - It makes a huge impact
Help desk that receives calls from farmers in distress, provides immediate counseling, and refers to field teams that immediately visit the farmers.  Sometimes the calls lead to identification of collective problems that impact many more farmers than the one who called and they are also followed up on until the resolution