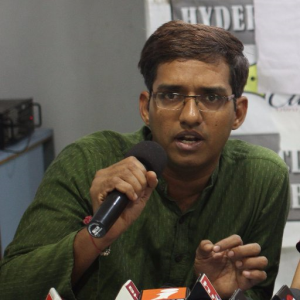 After volunteering for AID in the US for 13 years, Kiran returned to India in 2008 to work with farmers and agriculture issues full time. Over the last decade, Kiran has become a key figure in the farmers' movement in India. He is part of the National Working Group of All India Kisan Sangharsh Coordination Committee (AIKSCC), a coalition of 200 organizations spearheading the nationwide protests. He leads a farmers' organization Rythu Swarajya Vedika in Telangana and Andhra Pradesh and has been implementing AID's initiatives in these states to prevent farmer suicides and address issues of rural distress.
Kiran will be in the US for a couple of months visiting various cities and sharing about farmers issues in India.  This is a great opportunity to hear first hand from one of the leading voices on farmers issues in India.
Event – Farmers' Unrest – A New Hope in India, talk by Kiran Vissa and discussion

When – Saturday, April 13th 2019 at 4PM-6PM
Where – Department of Physics (John S. Toll Building), Room #1201, 4150 Campus Dr, College Park, MD 20740
Parking- If you are driving, please park in the garage on Regents drive (if entering from main entrance at Campus drive take right at the M circle). An un-metered spot on any level is free.
KIRAN'S TALKS IN US CITIES:
1) DC Metro Area (college Park)
Saturday, April 13 2019,  4pm-6pm  — contact Lakshmi   [email protected]
2) Houston
Saturday, May 11 2019 — contact Rashim  [email protected]
3) Seattle
Sunday May 12 2019 — contact Sunitha  [email protected]

4)   At Milan in Bay Area
Saturday May 18 2019, 6:30 PM Palo Alto– contact Asti  [email protected]
5) AID Conference in New Jersey
May 25-27 2019 Memorial Day Weekend.