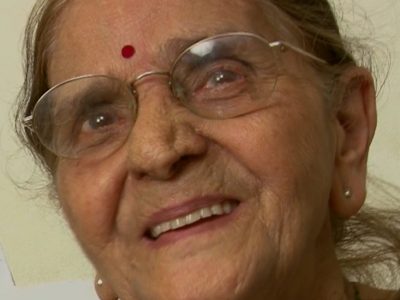 Indutai Khanolkar (1928-2018)
Indutai Khanolkar, a frontline activist for women's rights and a pillar of support for the Narmada Bachao Andolan, died of heart attack on Wednesday, January 24th in Chembur.  She was the wife of trade unionist and freedom fighter Vasant Khanolkar who passed away in 1999 and is survived by her children Medha Patkar and Mahesh Khanolkar, and one granddaughter, Mehak.
She attended King George school and Ruia College in Matunga, where she studied economics.  She went on to work in the post office, eventually serving as Postmaster General.  Of her inter-caste marriage to Vasant Khanolkar, she told Sudeshna Chowdhury of Mid-Day,  "It was love that brought us together. A man of simple living and high thinking… that's what attracted me to him."

The National Alliance of People's Movements noted that
Indutai enjoyed reading Marathi and English literature, a habit she picked up from her mother and passed on to Medha ("she once read more than a hundred books while studying at the Tata Institute of Social Sciences") and later, her grand daughter.

As a student of Economics at Matunga's Ruia College, Indu would juggle voluntary social service, and academics. Later she worked for the central government and retired as a post master after 38 years of service.
Following her retirement as a gazetted officer in Post and Telegraphs, Indutai Khanolkar dedicated her life for social service. She was the General Secretary of Subhash Nagar Education Society which runs a junior college for the poor. She founded the Chembur branch of Swadhar, a women's organization sponsoring education for girl in need, fighting atrocities committed against women, and offering counselling and legal aid to women. Her commitment for social work was intact till her last breath. She stopped going to office only four months back. She got herself associated with Rashtra Seva Dal a youngster, followed socialist ideology and became a close friend and colleague of Late Mrinaltai Gore, former Member of Parliament. Indutai was strongly against superstition, favoured women's empowerment and supported various social movements especially the Narmada Bachao Andolan and the Ghar Bachao Ghar Banao Andolan.