Want an event to appear on this page? Submit your chapter's event at this link.

2023 India FoodFest – Boise
August 26 @ 5:00 pm

-

7:00 pm
AID Boise welcomes you to the 6th Annual Indian Food Festival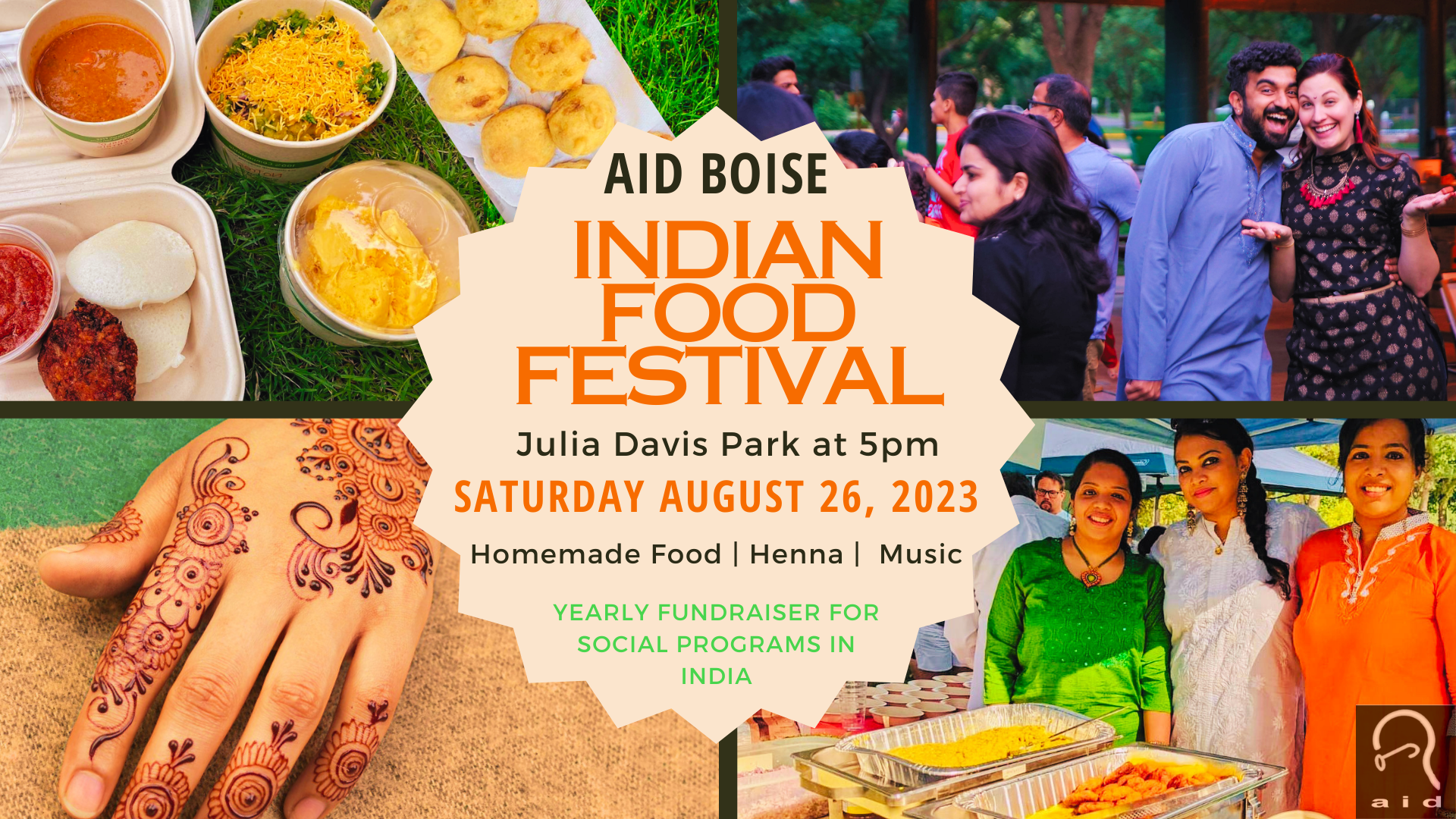 Venue: Agriculture Pavilion, Julia Davis Park
Thanks for visiting the link. We look forward to seeing you at the fun-packed event with Bollywood music.
Online sales closed. Please see us at the event reception for food tickets.
 A meal ticket will let you select one item each from the four food categories at the event. (Beverages are supported by the youth volunteers).
Entrées $ 14.00 each:


Vada, Papadam, and Bisibele Bhath


Samosa Chole Chaat 
Shahi Paneer with Rice or Naan
Pav Bhaji with garnish
Butter Chicken with Rice or Naan
Chicken Biryani with Raita
Kerala Fish Curry with Rice, and Cabbage Sabji

Appetizers $9.00 each:




Aloo Tikki Chaat with chutneys and garnish




Paneer Frankie with side salad




Vada Pav with chutneys and garnish




Pani Poori




Hariyali Chicken Tikka

Desserts $600 each:
Mango Lassi
Gulab Jamun
Assorted Mini cakes (Gulab Jamun, Mango, Chocolate)


Almond Laddoos




Rasmalai Trifle




Snowcones (Vanilla, Raspberry, Pina Colada)




Chocolate chip cookies and Ice Cream

Beverages $3.00 each:
Cold Lemonade: Regular/Lavender/Rose/Shikanji(spiced lemonade) 
Hot Indian Spiced Chai
Fresh Watermelon Juice
Masala Chaas
Thandai
All food items (hot and cold) will be packed in environment-friendly boxes, along with cutlery for you to enjoy at a place of comfort (if you choose so).
All foods are prepared by AID volunteers passionate about cooking and also donating their food proceeds towards the AID projects uplifting underprivileged communities. AID volunteers maintain utmost hygiene during the preparation and serving of the food.
We thank you for visiting this site and for your purchases.
Disclaimer: The availability of any item is subject to change due to unforeseen circumstances, however, an alternate option may be available.
If you have any questions, please email [email protected].
Submit your chapter's event here.