AID-India Rehabilitating Livelihoods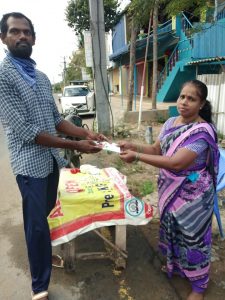 Latest reports of AID-India's work (supported by AID) from Tamil Nadu, Odisha, Rajasthan, Gujarat, Maharashtra, Andhra Pradesh
In the last few weeks, our Aid India field teams have provided many types of livelihood rehabilitation support to 115 street vendors: Vegetable and Fruit sellers, Bajji Bonda Stall, Appalam sellers (papad), Pani Puri sellers, Phenoyl makers, Drum tea, Cycle Tiffen, Idly Stall, Dry fish sellers, coconut sellers, curd makers, blouse and nighty sellers, pesticide sprayer, Petti Kadai (Shop in a Box), etc…In each case, we identified the exact need and provided support for it. We are also constantly in touch with these people to ensure they are able to get back to earning a living. Many of these people had almost given up hope of recovery and this small support has given them a big boost of confidence. Most have told us they will return this "loan" as soon as they can. Our team has identified another 600 village entrepreneurs who urgently need working capital support to get back to earning a living.
The scale and suddenness of the lockdown has precipitated a huge food crisis. Many families are already going hungry, surviving on rice water (kanji) and several more will be without food in the next few days. The food distribution system by the Government requires ration cards and other documents, which many tribal and migrant families do not have. AID India volunteers have been arranging food and other supplies to at-risk families. To minimize contact and travel, a decentralized distribution plan is being followed.
Jun 16, 2020: Team has helped 300 individuals rebuild their livelihoods so far, and have identified another 1500 more to help
Chitra from Aid India helped these 10 women in Thiruthani restart their business. Each of them has an amazing story of grit and persistence. Before the lockdown they had each carved out a small business in their own village. Everyday was a struggle even then, but they managed to earn and support their families. Then the lockdown came. And they had spent all the money they had to feed their families. After the lockdown lifted, they still couldn't restart as they had no working capital. Chitra from our team, who lives in Thiruthani, has been meeting them regularly and encouraging them to restart their work, promising to get them the working capital needed. A few days ago, we provided them the money they needed (just ₹ 3000 each). Within days, they have all restarted their business again!
So far, Aid India has helped 300 people like them restart their livelihood. And we have identified another 1500 people who need such support. Help us help them.
Jun 12, 2020: Ajay, a migrant worker, is safe back home in Jharkand post quarantine
On 27th March, our team had provided food provisions to these migrants who had come from Jharkand and staying at Kannathur. The person on the video (Ajay) explained their situation and asked help to go back home. Seeing his video, many people contacted and supported them. As others had started helping them, we stopped our support after the first two weeks of food provisions. But we kept in touch with them and our team visited and monitored their situation to ensure they are ok.
Today, Ajay called me from his village in Jharkand to say that they have all reached their villages (post quarantine) and are safe.
Jun 8, 2020: While in lockdown, educating the children in the villages with the Ahaguru app
Unlike children from elite schools, most children in villages have not had any educational inputs since the lockdown. To address this, we recently started a free Maths and English program for children in villages using the Ahaguru app. We designed the program so that it can work in low bandwidth conditions with a lot of offline features. Aid India volunteers identified 500 children in villages whose parents or relatives have mobile phones and got them to download the app. We then assigned free math lessons (with videos in Tamil) on the app. And these volunteers have been mentoring the children, answering their doubts and supporting them. The kids are in constant touch with these mentors and are sharing their progress and feedback. Any school or teacher or volunteer who is in touch with 25+ children in std 5-8 and wants to help them learn can join as a mentor. We will assign the lessons to your students and you can track and follow up with them and clear their doubts.
We have been getting fantastic feedback from both kids and parents.
Feedback from a child
Today, AID INDIA with support from Creador Advisors India, provided 100 BP instruments and 1000 N95 masks to Stanley Govt Hospital. Dr. Ganesh who received these was himself diagnosed as Covid positive earlier and had recovered. He said that with the increase in covid cases in chennai, there is a serious shortage of resources in Govt hospitals.
Jun 4, 2020: Helping Anandhi rebuild her livelihood
Anandhi has had a hard life. Because she had two girl children, her husband left her. Around the same time her mother also died. Anandhi gave one daughter to her sister to raise and has been living with her old father. She got a job as a teacher in a private school earning about Rs. 5000 with which she took care of her father and her other daughter. After the corona lock down, the school fired her. Without a job and unable to support her family, she had been thinking of suicide many times in the last few weeks. One of her neighbors alerted Samu from our team. Samu started meeting her and counselling her and getting her to think of alternatives. Seeing she had experience working in a hotel earlier, Samu encouraged Anandhi to to start a small tiffin shop in her village. We gave her working capital support of Rs. 5000. Yesterday, Anandhi finally started her tiffin center. She sent me a voice message saying she had made idli, poori and vadai and has sold for Rs. 404 on the first day.
This activity has given her a lot of hope and purpose. I really hope that her tiffin shop succeeds and she is able to use it to support her family. Aid India team had provided food relief supplies to over 13,500 in 1,225 villages. But a sustainable solution for these poor families is to restart earning. But during the lockdown, these families used up even the small amount of money they had. So, we started identifying village entrepreneurs and providing them the small capital required to restart. We have so far helped 198 people like Anandhi in these villages who have re-started their livelihood. Seeing this, many more have started approaching us and we have a list of almost 1,300 people waiting for support to restart their micro enterprises.
Jun 1, 2020: Rebuilding livelihoods
Many poor people in our villages are brilliant entrepreneurs. With so little, they manage to build small but innovative businesses. For example, one person buys ice at 4am every morning and then cycles till 2 pm in the hot sun to sell the ice to families without fridges. Another person figured out that there is a demand for pannavellam tea (jaggery based tea). These village entrepreneurs work everyday for 12-14 hours just to ensure their families can eat. But during the lockdown, unable to work, they were forced to eat up their working capital. When Samu met her, Shanthi was very depressed. Her husband had died a few years ago and her brother also passed away a few months ago. She used to sell vegetables and support her family. But the lockdown destroyed her livelihood and working capital. She needed just Rs. 3000 to buy vegetables and fruits to start selling again. Within a day of our giving her this support, Shanthi started buying and selling vegetables and fruits. And now she is a lot more confident about her family's future.
In the last three weeks, our Aid India field teams have provided this type of livelihood rehab support to 115 street vendors: Vegetable and Fruit sellers, Bajji Bonda Stall, Appalam sellers (papad), Pani Puri sellers, Phenoyl makers, Drum tea, Cycle Tiffen, Idly Stall, Dry fish sellers, coconut sellers, curd makers, blouse and nighty sellers, pesticide sprayer, Petti Kadai (Shop in a Box), etc…In each case, we identified the exact need and provided support for it. We are also constantly in touch with these people to ensure they are able to get back to earning a living. Many of these people had almost given up hope of recovery and this small support has given them a big boost of confidence. Most have told us they will return this "loan" as soon as they can. Our team has identified another 600 village entrepreneurs who urgently need working capital support to get back to earning a living.
With a small support of Rs. 3000 we can ensure that a street vendor gets back her livelihood and her family gets food security with dignity.
May 30, 2020: Team gave 1500 bottles of water, and 3000 packets of biscuits to migrants traveling back home
A large group of migrants from North East were leaving by train tonight and urgently needed food for the train journey. We called them and found out what they wanted and their departure time. By 9 pm, Swaminathan had arranged 1500 bottles of water and 3000 packets of biscuits and met the migrants at the station and delivered it.
May 25, 2020: Report on AID India's relief work in the villages of the Thiruvallur district, by AID Volunteer Chitra
These villages are inhabited by Irulars (ST caste). Most of the families here work as wood cutters, domestic helps, workers in fields and farms etc. Pre-lockdown they only had to make food for themselves once a day, as they would be provided with food where they work for another meal. However, since lockdown, they have been affected because of two main reasons – no earnings because of lack of job, and they are not allowed to go outside their village to buy essentials for themselves (if they do have money for it). Since AID India has supplied these families with groceries, they have been able to eat three meals a day, for over two weeks.
There are two stories that especially moved me. One elderly woman, Chinnathaayi, lives alone and has been living by only drinking water on most days. At times, if there is excess food in her neighbours' houses, she has something, bare minimum, to eat. She was relieved when food supplies for the next few weeks were given to her. There was another family, all women — one elderly woman, her 4 daughters, and 2 grandchildren — who have had no opportunities to save up money. With lockdown, their daily earnings were also affected. Besides this, they have additional costs because they live in a rented kutcha house. Aid India does an awesome job of particularly identifying people from larger families, disabled persons, widows, and mentally challenged people to make sure they cater to them. Now, with lockdowns easing, some families at least have an opportunity to earn, but there are many others who are still helpless.
May 23, 2020:  Team gave food provisions to 52 families from the Narikoravar community in Vayalur village near Utiramerur.
Even as the lockdown is getting lifted in parts, there are so many poor families who have no money and no food and no ways to earn an income. Totally we have distributed food provisions to 12688 families in 1213 villages. While we are continuing food provisions for those who still need it, we have now started focusing on livelihood rehabilitation for the poorest as this will enable them to start earning again. I will share the details of how our team is helping street vendors and vegetable sellers restart their work in my next post.
May 21, 2020:  Team got e-passes and a bus arranged and sent back home a group of 20 migrant workers from West Bengal
These migrants were working in Sholinganallur in the outskirts of Chennai and have been wanting to go back for more than 50 days. Aid India coordinators Damu, Malay and Swaminathan patiently followed up for almost five days to get the bus and the e-passes. They all finally left Chennai today. Hopefully the roads will be safe as cyclone has already crossed. Bus is a lot costlier than train and more risky. We initially tried to get them into trains, but there aren't enough trains being sent and they were getting more and more restless. Govt must start sending migrants back using more trains.
May 17, 2020: team till date has
Supplied food and dry rations to 12351 families in 1194 villages and slums in Tamil Nadu, Andhra Pradesh, Orissa, Rajasthan, Gujarat and Maharashtra.
Supplied 540 N-95 Masks, 300 PPE Kits and 69,750 surgical masks to Various Hospitals, General public, Primary Health Centers, Police and Sanitation workers in Chennai, Thiruvanamalai and Coimbatore.

Today —
Our Field workers Saha Mani and Chandran distributed dry rations to 31 families in Dindigul district. The beneficiaries included physically and mentally challenged, visually challenged and HIV positive patients.
Our volunteer Sandeep identified 50 poor families out of which 20 are migrant workers in Thondamuthur block, Coimbatore. Due to the lock down, they could not go back to their hometowns. With no government ration cards, none of them had access to the government provisions. They were struggling to get food and had no money.
Aid India's Project Manager Jayakumar distributed 1400 masks to Police stations and sanitation workers in Thondamanallur and Anaicut Panchayat at Lathur block in Chenglpattu district, Kalpakkam and Koovathur.
Our Project Manager Selvam distributed a total of 2400 masks in Thiruporur Municipality. The masks reached people through Primary Health Centres, Thiruporur police station and Commissioner's office.
Our Project Manager Vimala identified 12 families from Thiruporur block who  were   struggling to make even one meal a day. She distributed dry rations to them.
Sharvan Desikan  from the United States is a young student volunteer for Aid India. He is a grade 11 student and a Carnatic singer.  Shravan has also been regularly taking online classes for the Eureka children in Maddur Village of Tiruttani for the past two years. He raised funds for Corona Relief by his carnatic musical performance through video conferencing using the Zoom platform. His dynamic initiative brought in funds to provide 44 families of the Eureka kids with 5kg of rice, groceries and 100 surgical masks. Field Coordinator Chitra and Project Director Sumathi coordinated the distribution.
Project Manager Kumaran and his team identified and provided relief materials to 13 families in KV Kuppam and Kaniyambadi block in Vellore district.
Aid India's Field worker Selvi identified 14 extremely poor families in Kodivalasa Kalani and Pallipet village, Tiruvallur and provided relief provisions to them.
Our Project Manager Amsaveni supplied dry rations to 28 families from 6 villages in Thiruvanamalai district. She also identified and provided provisions to 10 families in Nalanlan Peillai Petral village.
Aid India's Field worker Vanitha along with our Project Director Sumathi and other volunteers handed out dry rations to 10 Tribal families in Pappireddypali village in Tiruttani block, Tiruvallur District. Most of the people in this village earn by stitching slippers and selling them. The lock down has deprived them of their work and income.
May 11, 2020: team gave 2 weeks of food provisions to 315 families in 47 villages. 
Today, AID INDIA team provided two weeks of food provisions to 315 families in 47 villages. Many of the people we reached today were disabled and many others were very old and unable to even move. We have so far totally distributed food provisions to 11,044 families in 1079 villages. That's 50000 poorest people supported with 20 lakh meals.
May 10, 2020: team gave 2 weeks of food provisions to 100 families in 20 villages.
AID INDIA team in Srikakulam (Andhra) led by Suryanarayana has given two weeks of food provisions for 100 poorest families in 20 villages.
The villages are: Lolugu, Ponduru, Rapaka, Lidam, Konchada, Yagatipeta, Luttapeta, Chinna Konchada, Kummara colony, Yerukala colony, Ramaraipuram, Buradapeta, Mandarada, G.N.Puram, Applagraharam, Siripuram, Chinna Siripuram, Manthina, Janakipuram and Chinthalapeta. In each village our team selected the poorest who were going hungry and then arranged provisions for them.
May 7, 2020: team gave food provisions to 179 families in 20 villages. Totally we reached 9810 families in 942 villages.
One group of families that we met today were living in tents on roadside in Kalasapakkam. They had come from Andhra about 2 months ago in search of work and had got trapped in the lockdown. As they are not residents and don't have ration cards, they didn't get any food supplies. They were surviving for the last few weeks by begging in nearby villages for food. A local police officer helped us transport the food supplies and even came with us to distribute it to them.
May 3, 2020: team gave food provisions to 567 poor families in 22 villages. Totally we reached 9292 families in 916 villages.
In each village our volunteers visit and identify the poorest and most vulnerable people who have no food at home and then give them the provisions. We also keep visiting and monitoring other families in the village to ensure no one goes hungry. Most have no income, no jobs and no money to restart even the small activities (like selling vegetables) that they were doing earlier. After the lockdown ends, we will continue working with these villages to rebuild their livelihoods, health and improve the nutrition and education of the children.
Our team has supplied 240 N-95 Masks and 61,150 surgical masks to Various Hospitals, General public, Primary Health Centers, Police and Sanitation workers in Chennai, Thiruvanamalai and Coimbatore.
Highlights:
Aid Project Manager, Arivazalagan identified and supplied provisions to 92 families  in Mudakanalur, Nandeeshwara mangalam and Kumarakudi Villages of Cuddalore District.
Our Project Manager Rajapandian distributed dry rations to 30 families living in Settiarthoppu and Theramipalayam villages of Trichy.
At the foothills of Sirumalai, near Dindigul, there are close to 28 families living together in the Blind colony. All the inhabitants of the village are visually impaired. They used to make 'Kadalaimittai' ( groundnut sweet) and 'Agarbatti'    ( Incense sticks) and sell them, while singing songs at the railway station and bus stands. After the Corona Virus lock down, they were not able to venture out at all. Once the rice provided by the government's ration shops got over, they survived on the KadalaiMittai they used to sell, for five days. When Mani, our AID coordinator found the Blind colony and distributed rations, they were really happy that they could eat properly after many days.
Project Manager Chitra identified 66 poverty stricken families in Thiruthani and she distributed food supplies to them. She also distributed provisions to the families  in the Tribal villages, Kannigapuram, and Periyar Nagar.
Our volunteer met Prabu, a physically disabled person in Thuvakudi, Trichy. Prabhu worked hard to finish his degree and just recently started working as a guest lecturer. However, due to the lockdown, he has not received his salary for several months as the offices are closed. This forced him to a situation where he couldn't even provide food for his 6-month-old daughter. His family was so glad when we provided him with dry rations.
Aid volunteer Pradee identified and supplied food provisions to 4 families who were in dire need of food in  the villages of Lalgudi Taluk and Poovalur in Trichy.
April 30, 2020: team gave food provisions to 28 families with visually disabled people. 
They live in a place called Blind Colony at the foothills of Sirumalai in T. Kallupatti village near Dindigul. They used to make and sell Kadalai Mittai (Chikki, Peanut Candy) and Agarbathi incense sticks. Some of them were also selling pens and pencils by singing in bus stands and railway stations.
After the initial ration rice got over, they and their families have been at struggling for food for the last 5 days. They have been surviving on the Kadalai Mittai they had kept for selling. Yesterday, we got information about their situation and today our volunteers reached the place and gave 2 weeks of food provisions to all the 28 families there.
April 27, 2020: team provided total food provisions to 7980 families in 803 villages.
In the last two days, (yesterday and today), we gave provisions to 716 families in 60 villages.
April 24, 2020: Siva, AID INDIA field coordinator, climbed up a hill to Pathimalai village in Jawadhu hills to distribute food provisions.
They could only carry up rations for 5 families today, and they had distributed the other ration kits they had carried to 5 other hungry families in Anaivadi village on the way. They will go back to Pathimalai again with more rations. 60 families live there but no vehicle can go up, because the only way is a steep climb. So Siva and his team came by bike to the foothill and then climbed up the hill (almost 3 km of walk and climb) to reach the village. He is planning to organize a few more trips to provide provisions to the other families.
19 Narikuravar families in Voymedu, Vedaranram reached today. Team reached rice and ration kits to 19 families who live in Voymedu in the midst of nowhere. These people have been living in very bare tents in an empty dryland awaiting land to be allocated to them by the local authorities. They eke a living by hunting and selling minor wares. When we were trying to source help for the Idumbavanam Narikuravars, a staff working with us in railway pointed this community to us. They live completely out in the nowhere and do not have ration or Aadhar cards. They survived a month of lockdown on a watery rice gruel and sheer hunger. 
We also responded to a call on facebook seeking help for two families caught inside the containment zone without any money. Last week we reached a grocery kit to a mother who was stuck in a relative's house without any money.
April 23, 2020: team provided 2 weeks of food provisions to more than 6300 families in 670 villages.
Yesterday, our team provided dry rations to:
20 families in 4 villages in Jawathu Hills,
16 families in 3 villages in Tiruvanmalai
42 families in 5 villages in Tiruporur
10 families in 1 village in Cheyyur
Many of these families are in a desperate situation. For instance, one woman lives alone and had not eaten a meal for 6 days. She was living on just ragi powder that she was mixing with water. When our volunteer Siva gave her the rice and dal bag, she suddenly started crying. Another woman had walked for days together from Kerala till she reached her home in Jawadthu hills, and here too she was still hungry.
April 21, 2020: team has distributed dry rations to nearly 6500 families in 634 villages. 
Today, our volunteer Devi got a call from Vadaillupai village in Vembakkam block, and visited it. There are16 Irular families who have nothing to eat. We have now sent her money to buy and supply provisions for two weeks to each family. 
March 31, 2020: team has identified and distributed provisions to 1366 families:
571 families in Chennai, 325 in other districts of Tamil Nadu, 120 in Odisha and 350 in Rajasthan.
Highlights:
350 construction workers and migrant laborers in Rajasthan: AID volunteers are working with a community kitchen to provide 2 meals each day.
200000 surgical masks to Stanley Government Hospital, Tamil Nadu: The team has delivered protective equipment (N95 masks, gloves etc.) to doctors and nurses at Stanley Government Hospital. Apart from this, 200,000 Surgical masks (3 ply masks) have been donated for distribution to other hospitals, medical staff and conservancy workers.
100 migrant workers in Kannathur: Kannathur comprises migrant workers, mostly from Jharkhand and Andhra Pradesh who live here away from their families. The lockdown prevented them from travelling to their homes, leaving them stranded without money. AID volunteers identified needs and set up a food provision distribution system that took into account social distancing. Although the government has promised food for everyone, without ration cards and other documents, these workers will be left to fight for themselves.
AID Responds to COVID
Donate to COVID Relief Fund
12 Irular Families in Pallancheri: This is a very poor tribal community that cannot afford three meals, even on a regular day. Most of them are daily wage workers, who are now without any income. Food provisions for 2 weeks have been supplied. Post the corona lock-down, efforts would need to be focused on rebuilding their lives.
20 tribal families in villages near Nagapatinam: 10 Matukarar families in Thiruthiraipoondi and 10 families in Srivanjiyan. A week's provision has been provided through Vanavil volunteers.
41 poor families in 6 villages in Tiruporur:  Food provisions for a week have been provided and volunteers will be monitoring their needs. With support from Thoon, provisions have also been provided to 117 families in other villages nearby.
30 families of auto drivers in Taramani: Due to the lock down, these auto drivers have lost their income. Basic provisions have been provided to these families.
45 families at MGR Nagar: All of them work as construction workers and agricultural laborers and live in the slums of Soolaipallam, Chennai. Provisions have been supplies to these families.
10 families in Koturpuram slum: Provisions have been supplies to these families.
20 tribal families in Odisha: As with the case in other migrant communities, these families lack proper documentation. AID volunteers have reached out to them.
AID India needs your generous support to reach more families in need during these unprecedented times.