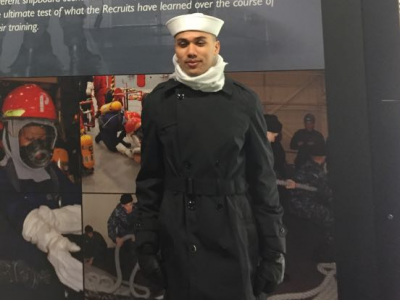 Comfort in the Time of Coronavirus
Monday March 30 2020
So many of our AID partners and Jivansathis are taking risks on the front lines getting people to safety, arranging rations, assessing health needs in this time of crisis and uncertainty.  Amidst the harrowing stories from the India front, a bit of news from North American shores courtesy of Sunita Mani, volunteer of AID-Dallas and past Board member.
Her nephew, John T, is serving on the hospital ship USNS Comfort which reached New York today.   Sunita's brother writes, "Their mission is to help the non COVID-19 patients to allow hospitals focus on COVID 19…. He will play an important role in logistics and securing supplies and may also do some of the medic duties."
Every doctor, nurse, and hospital support staff risking their lives to treat the sick remind us why it is so important for all of us to do our part in staying home to avoid overwhelming the system.   AID partners are working tirelessly to help communities in India who are only just now learning about coronavirus, to survive during lockdown, protect themselves, and understand how they can control the spread and flatten the curve.
This morning, New York Governor Andrew Cuomo expressed appreciation to the crew of this ship, along with all of the health workers.  His words apply so well to health workers and relief workers around the world taking risks to protect others.
The message is God bless you and thank you. We all applaud you. We are in awe of you. We're all inspired by you. We all wonder secretly would we have the courage to really step up at a time of challenge?
In these times we need such inspiration and it gave me a lift to think of this young man, who only yesterday, it seems was a lanky kid on the periphery of AID-Dallas meetings and today is at the epicenter of the coronavirus crisis in this side of the world.
Salute to his family for their courage as well.
Aravinda Pillalamarri
To prevent the spread of coronavirus, India imposed a 21-day lockdown starting March 24, finding millions of migrant workers as well as poor families without food or wages.  AID and partners have been providing relief – food, soap, and critical communication, and preparing for the health needs that will arise.
AID Responds to COVID
Donate to COVID Relief Fund