You can gift a home this holiday season
Gift a home
Christmas was still days away and Diwali had come and gone.  Yet the whole street wore a festive look.  With oil lamps and rangoli (hand-art) at every doorstep.  Children were singing and women came with lighted camphor plates.  None of us expected such a touching welcome.
This was a street where 17 families from an Irula village had built homes with the help of AID-India.  One of the most marginalized communities in India, the Irula depend for their livelihood on catching rats and snakes.  Earlier they lived in huts whose walls were made of old saris (cloth) or mud.  11 more families in this village are waiting for our support to build their homes.
How much do their modest homes cost to build?  $3000.  Less than a couple of month's rent in major cities of the world.
This holiday season spread the joy by gifting a home or part of a home!
Gift a home
Over the last 4 years we have built 500 homes and seeing the change, hundreds more  families in need have approached us.  We would like to welcome the next year by raising funds for building the next 20 homes.
Look Inside! 
With 220 sq feet living area and a small kitchen these are modest homes at a low cost, that these families have dreamed of all their lives. 4-5 years ago in response to floods in Tamil Nadu many of you supported AID for relief efforts.  With the affected families, we thought of replacing the huts that were damaged with more permanent (or pakka) homes made of bricks and cement.   Utilizing AID-India's efficient design, local masons were able to deliver this at a cost of $3000 per home!
As more families got brick-and-mortar houses in the same villages, the community itself grew stronger and was able to negotiate better for access to electricity, ration cards, land titles, and daily wage work to supplement their income.  They have maintained these homes over the years and are thriving.  The success of these neighborhoods has encouraged us to set the goal of helping all the families in need who have approached us and reaching 1000 homes built by 2025. Can we do this together? We are at 500 now!
Gift a home
BEFORE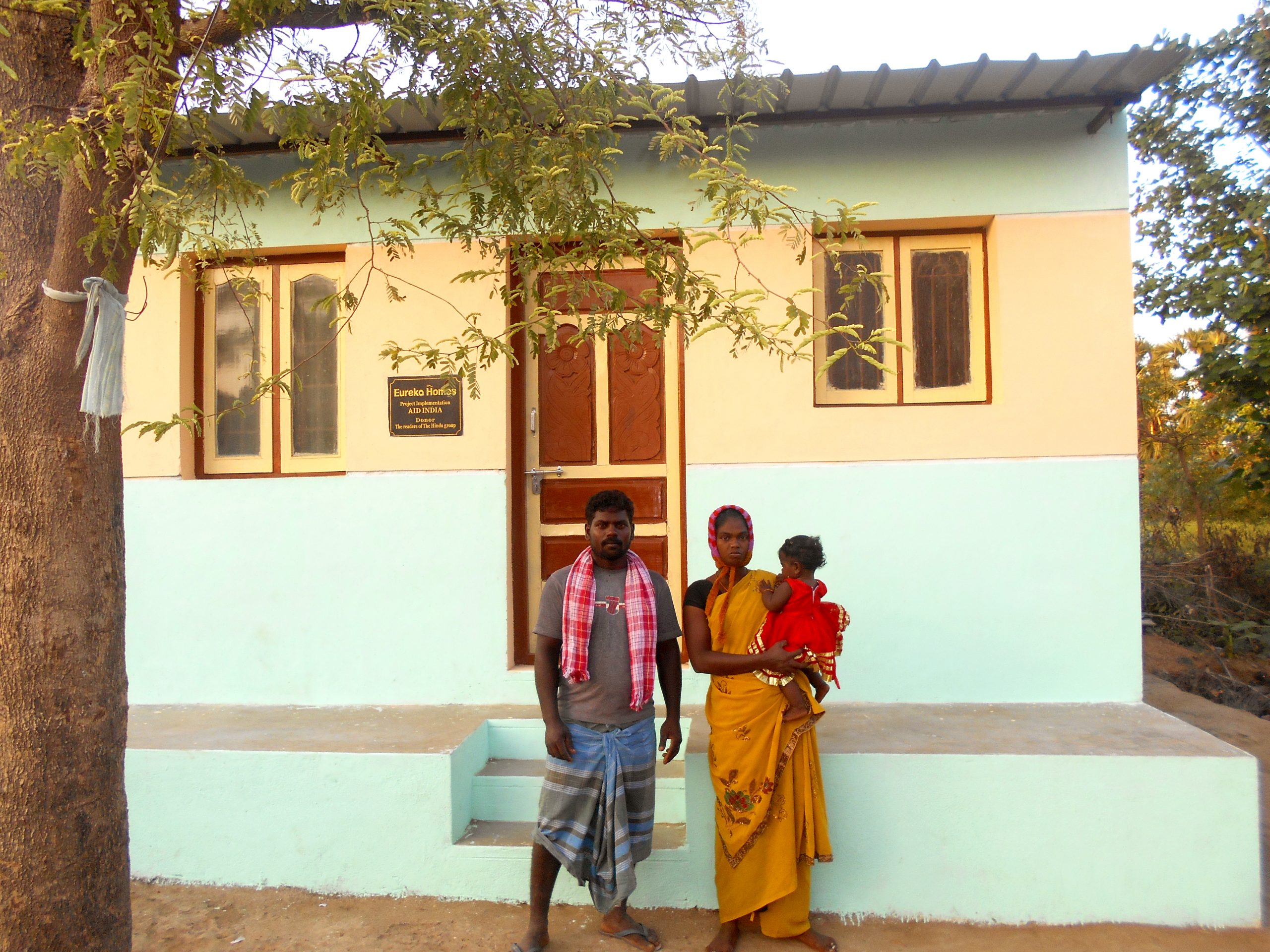 AFTER
Poongavanam and Uma love their new home and maintain it,  just as they did the leafy home that served them all these years (above pics). This was their lifelong dream.
This holiday season you can help many more families realize this dream.  We urge you to donate generously and gift a home.  Happy holidays!
Gift a home