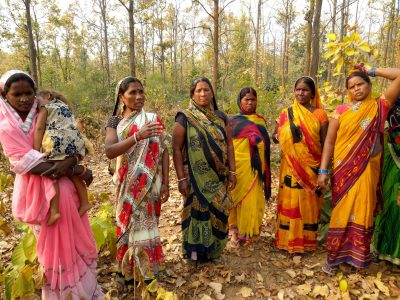 AID solidarity with the Global Climate Strike
By Subhayan Sahu and Siddharth Bharath, AID Environment Cell
Climate change is here. The planet is being irreversibly changed because of the continued use of carbon based natural resources towards powering inequitable development. This is prioritizing the profits and lifestyles of a rich and powerful few at the cost of the lives of the oppressed many in the present, and the lives of everybody in the future. In the din of statistics of temperature rise, the politics of international negotiation, the IPCC timeline and litany of biodiversity loss, often what is not recognized is how climate change is already affecting vulnerable communities. The people who contribute the least towards climate change are shouldering its worst effects losing rights, relations, homes, livelihoods and lives. In times of existential threat it is important to acknowledge and support communities, organizations and individuals fight for humanity and a better and just future for every life. One such movement has assembled around the actions of Greta Thunberg, the 16 year old Swedish teenager, whose school strikes and relentless voice of reason, has become the rallying point for a global youth movement of millions, forcing the rich and powerful to sit up and take notice. Their global program "Fridays for Future", and several allies, have called for a global climate strike on Sep 20 and 27, timed alongside the UN Climate Action Summit in New York.
In our work with communities across India, we have learnt from the deep knowledge and lives of the indigenous and other communities on how they uphold the collective good over short term profits. At the center of our work are the thoughts and actions of these communities protecting forests, water and biodiversity. In solidarity with the Global Climate Strike, we are sharing stories and learnings from work, and also encourage AID volunteers to stand and take action with the Strike.
Parvati Devi, a community leader in the village of Lachhmipur in Koderma district of Jharkhand is such a climate warrior. Twenty years ago she started a woman's collective in her village with the goal of protecting the surrounding forest, which faced imminent destruction due to unlawful logging. This band of women patrolled the forest themselves, stopping outsiders from cutting the trees, and even created ponds for the well-being of animals. After two decades of work, the forest has rejuvenated, brought back clean air and animals, and replenished the water table in this drought prone area. Parvati Devi is a forest dweller, and her community depends on the forest for sustenance. Generations of traditional knowledge has made her understand the intricate relation between environmental protection and rights of people living close to nature –  – a deep truth which the "civilised" world is beginning to understand backed by science Unfortunately, the state doesn't recognize the role of these forest dwellers in protecting the forest,
Fundamental to Climate justice and climate change mitigation strategies are the rights of these communities. Lal Singh, from the forest villages of North Bengal, is another such warrior, who has been working towards securing living rights in the forest for his community. As he eloquently explains in this video – "What is forest without its people?" In the context of India, there have been communities whose lives are intertwined with sustainable living in forests for centuries. Studies have shown that community protected forests often fare much better than government protected forests, which are vulnerable to exploitation by industrial actors. Hence, as we strive to achieve climate justice, we need to allow these communities to guide us, and not use climate action to justify their continued oppression. This is inherently a difficult problem, and naturally our response should not be homogenized. For example, it is crucial to critically examine the easy narratives regarding climate solutions. One such convenient statistic is that the forest cover in India has increased in the recent past; but a deeper look reveals the ground reality – even monoculture plantations are counted as forest cover. In fact, there have been situations where the government has resorted to military afforestation at the cost of property and land of vulnerable communities. Climate crisis will bring to the fore more such situations of eco-fascism, and we need to ensure that our climate movement includes a conversation on these issues as well.
Unlike how it is often envisioned, the climate crisis is not a singular apocalyptic event in the future that's going to destroy humanity. We are in the midst of the crisis, and it's manifesting itself in frequent floods and calamities, irregular and uncertain monsoons leading to drought, and large scale migration. Indigenous communities all over the world have been struggling to secure their rights to land and livelihood for decades, in addition to facing the brunt of climate change impacts, and the proliferation of top-down methods of mitigating climate change. Avoiding deforestation is a key pathway to climate change mitigation, and strengthening Indigenous and community land rights all over the world represents an effective, efficient and equitable action that governments can undertake to protect the world's forests. AID recently ran a 'Freedom from Thirst' campaign to raise awareness and funds to support such grassroots projects related to water security in India. We look forward to conducting more campaigns like these that bring the stories of these communities to the forefront.
We encourage all volunteers and friends of AID, wherever they are in the world, to participate and take action as they see fit as part of the Global Climate Strikes. Visit https://globalclimatestrike.net/ to find an action near you, or join the digital action.
On Sept 20 and 27, as we stand in solidarity with the global youth movement and question the foundations of the fossil fuel economy, let us also stand, learn and act in solidarity with Parvati Devi, Lal Singh and the countless other grassroots climate warriors. Therein lies hope towards better futures for people and the planet.