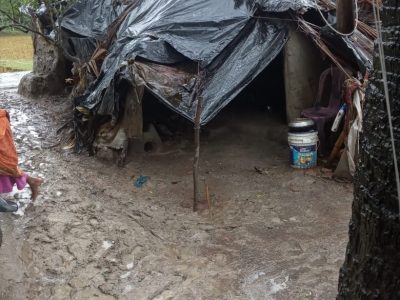 Amphan: Initial updates from partner BTS
In the immediate aftermath of Cyclone Amphan, it has been difficult to get detailed reports on the full extent of the damage. However, some of our partners have been able to commence relief efforts and provide an initial ground report. Here is a summary.
From Baikunthapur Tarun Sangha (BTS):
BTS works in several blocks in South 24 Parganas district. Several villages in Kuitali block are flooded. All mud houses in K-plot island lost their roof tiles.
In Kuitali, the river embankment is broken in a few areas, through which saline tide water entered the agricultural land. Some people are living in boats with all their belongings, knowing nothing will be left of their houses after the storm. Most of the people who took shelter in Kultali in the storm center went back home, to see whatever they can salvage from the ruins. They are trying to save mosquito nets and utensils under the debris. More than 2000 homes have been destroyed in Kultali, Deulbari and Mahapith.
Ponds have ruined by sea water, broken tree branches and other debris. Most of the trees have been uprooted or twisted. Of the surviving trees, their leaves are turning yellow and shedding and dying. The fish have died in these ponds. 
A few weeks before Amphan, people harvested paddy and stored it in their homes, but it is all now either under water or wet and ruined under the debris. People have lost all their harvest. Those who have completely lost their homes (living in mud houses) are living under tarpaulins on the bare ground
Next steps for BTS:
BTS is organizing a community kitchen for Deulbari residents. It will also provide oil, potato, sugar and Neutrela to supplement PDS rations. 
Some vegetable gardens are lost, but with the experience gained from Aila, the next step will be to rebuild organic vegetable gardens with some expert advice. After the water recedes (7 to 10 days), they will start reclaiming agricultural land, before the monsoon comes in just a month's time. They will also start repairing river embankments and clean up the ponds. 
The eventual house repair should be done by the government. But there is a critical, immediate need of tarpaulins to survive the next few months until government help arrives. There is a single request from individual villagers: save different type of paddy seeds for the harvest. Save the paddy seeds.
AID Responds to Amphan
Donate to Amphan Relief Fund