Amphan: Initial updates from DRCSC and Mukti
In the immediate aftermath of Cyclone Amphan, it has been difficult to get detailed reports on the full extent of the damage. However, some of our partners have been able to commence relief efforts and provide an initial ground report. Here is a summary.
From our partner DRCSC (Development Research Communication and Services Centre):
The seed storage in Hingalganj (N-24 Parganas) and Patharpratima blocks (S-24 Parganas) is severely affected. Most of the seeds have been drowned. Farming families were unable to sell most of their perishable produce due to the lockdown and this became rotten in the field. Now paddy and other crops have also been destroyed. They don't have cash at hand and are completely dependent on relief. In Sunderbans areas many embankments were broken and saline water entered the fields. So for the coming 2-3 years, nothing will grow there.
Cyclone Amphan was more severe than Aila. During Aila, people migrated to cities and managed somehow. But this time everything was shut. Labourers are coming back to their homes. There is likely to be a severe economic crisis in the near future.
MUKTI:
Loss and damage assessment in Sundarbans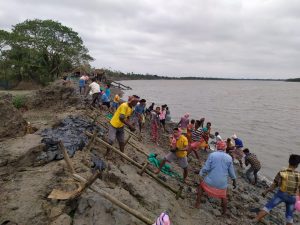 Houses-100% of mud houses are flattened. Most of the brick houses with roofs made of asbestos, tin or tali have been damaged or blown away, or broken due to fallen trees.
Vegetation- South 24 Parganas, including most of Sundarbans area, has lost all trees: they have been uprooted, twisted apart and now the leaves are becoming yellow and shaded. Trees as well as fish are dying, perhaps due to poisoning in the saline water.  
Agricultural land- Crops and fruit orchards are either submerged in saline water, or completely ruined with high wind gusts, rain and salt water damage. Roads are blocked by fallen trees- there is no power in that region, and no phone connectivity.
Relief work
Mukti has started a community kitchen feeding 500 people. They provided food to 300 Muslim people in Mousami island, has tribal community of 500 people. Community kitchens are becoming an issue due to COVID, but the people are saying give us dry food, we will cook it at home.
Mukti reiterates that the immediate need is for taurpaulins. People are living on the ground next to flattened houses, or inside broken house with partial or no roofing. At the same time there is a requirement for dry food.
Livelihood generation/ food for work – 
Mukti is working on creating a labour pool. They need funds for carpenters to build houses and repair roofs. They also plan to maintain seeds and nurseries for mangrove plants. Community based nurseries will enable job creation. To this end, Mukti will buy mangrove saplings from women's self help groups. 
AID Responds to Amphan
Donate to Amphan Relief Fund