AID-DC Metro invites you to a virtual Milan!
AID-DC Metro's annual fundraiser, Milan, will be virtual this year! In the midst of this global pandemic, we hope you will join us and help us continue to support the work of  all our partners, who turn difficult scenarios into visions of hope. Hope that gives the marginalized people some measure of control over their lives. 
Date and time: September 12th, 2020 at 11:00 am EST
Registration link: go.umd.edu/dc-metro-milan 
Guest Speakers:
Kamayani Swami:
Kamayani is an AID Jeevansathi – a volunteer dedicating her life to work for AID and social causes.
After many years of association with grassroots movements, Kamayani founded a rural workers trade union called Jan Jagaran Shakti Sangathan (JJSS) in 2008. Working  with the rural community of Araria and Katihar districts of Bihar in their struggle for basic rights, JJSS is active in helping them obtain work through MGNREGA (Mahatma Gandhi National Rural Employment Guarantee Scheme), better access to health, rations and basic justice by engaging with the government machinery.  Using various unique methods like cooperation, protests, satyagraha, the Right to Information (RTI), and social audits, JJSS's work has informed workers, organized them to obtain their rights, prevented distress migration and galvanized the local government machinery.
 JJSS is playing an invaluable role at a time when COVID has created huge problems for migrant workers in Bihar and Jharkhand by connecting migrant workers stranded in cities to access food and rations through common networks; providing dry rations to communities through JJSS members; and working with the government to ensure continued access to rations for the community.
JJSS's struggle shows our partners' commitment to empowering the most marginalized, even in challenging conditions. AID is proud to have supported JJSS since 2008.
Balaji Sampath: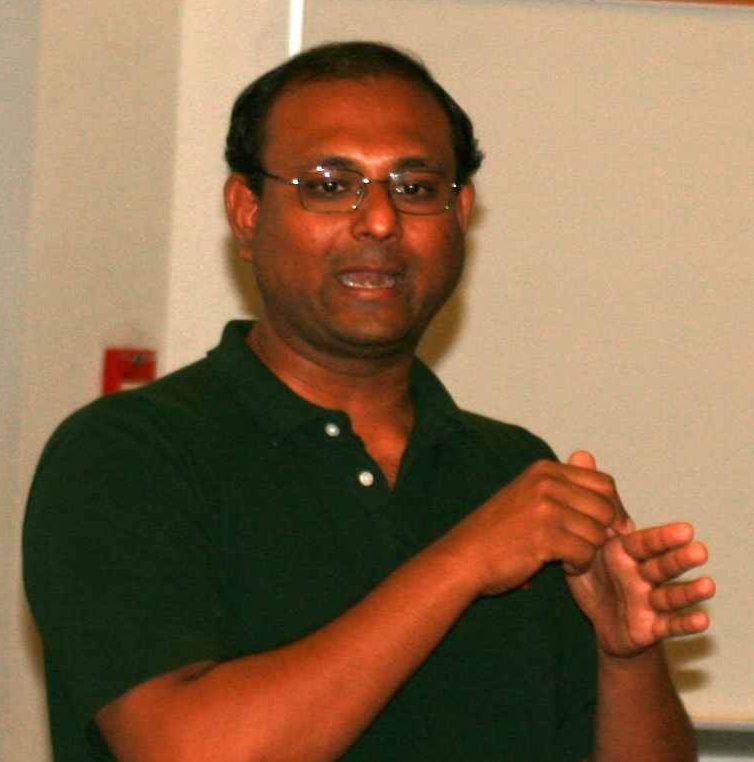 The recipient of many Indian and US awards, Balaji has been an integral part of AID since the mid-nineties when he was a graduate student at the University of Maryland. Upon completion of his Ph.D. in Electrical Engineering, he returned to Chennai and founded AID INDIA which is today the largest component of AID in India. Some of the programs that he has initiated and built are in the fields of Education, Health, Relief and Rehabilitation.
The Eureka Child education project trains teachers in government schools to improve quality of teaching by using innovative techniques and tools that have been recognized by an award from MIT. Computer and cell phone platforms are also being introduced. To date, close to a million children in the villages have received primary education. Balaji's methodology for guaging malnutrition and providing frequent physical examinations aims to improve children's health. Of the many relief and rehabilitation projects Balaji has participated in, the notable ones are the Tsunami of December 2004 and the more recent super rainstorms in Tamil Nadu and Kerala where countless homes were destroyed. AID INDIA initiated Eureka Homes and built many pucca (solid, permanent) houses.
Since the COVID-19 crisis began, Balaji and his team have helped with distribution of food, PPE and other critical supplies in several states. They have also assisted people to start or restart livelihood programs by giving small loans to women to initiate sustainable kitchen gardens and sell their produce. To continue the education programs, Eureka teachers initially conducted activities in small groups of five. Two months ago, a mobile app based video and interactive offline classes were offered to the children in villages.  
Come join us on September 12th to hear Kamayani and Balaji speak of their work and ways you can get involved.
Painting auction:
We will auction these two paintings made by artists who have donated these pieces to us. Please bid generously! All proceeds will go towards development projects.