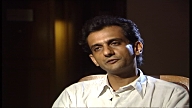 It was in the early years of AID and our collective recognition of sangharsh as an important tool for social justice and sustainable development that Abhay Mehta, a young activist published Power Play: A Study of the Enron Project.  An eye-opening experience, reading and discussing the book prompted many volunteers to follow the struggle in Dhabol, Maharashtra and become aware of the issues of energy production, consumption and pricing in a globalizing market environment and the capacity of the people to assert their rights to land, water, electricity and democracy.
Abhay Mehta was born on April 5, 1965.  He attended SIES college in Mumbai, earned a Master's degree in Chemistry from Rutgers University, worked in Brandeis University and later did research in molecular biology at the Howard Hughes Medical Institute before returning to India in 1993 to pursue activist-oriented research. He lived in Mumbai and travelled throughout the country.
He also built a successful data encryption software company called Cypherix, which he ran for 18 years.
He spoke about his study of the Enron project in an interview with Amy Goodman which aired on Democracy Now! in October 2000. | Listen.
Of his personal qualities, childhood friend and college classmate Kala Parasuraman writes, "His generosity knows no bounds.  He helped college students who could not afford rent, he housed an entire refugee family for a year.  I have seen him remove his jacket to give to a homeless person.  All these were natural acts for him."  He read voraciously.  Expressing his condolences, AID volunteer Vinay Kumar, who organized his talk on the MIT campus in 2000 recalled taking Abhay to bookstores in Harvard Square:  "By the end of the day he had filled a whole trunk with used books to carry back to India."
He passed away on July 31, 2017.
A condolence meeting for Abhay Mehta will take place in Mumbai at Bhupesh Gupta Bhavan, Leningrad Chowk, Sayani Road, Prabhadevi. Near Ravindra Natya Mandir. Sunday, 6th August, 5.30 p.m.
Anand Mazgaonkar of Paryavaran Suraksha Samiti and the National Alliance for People's Movements, has shared this note on the life and work of Abhay Mehta.
Adieu, Abhay
Abhay Mehta said his final farewell to us yesterday at the still promising age of 52. Suffering from failing kidneys he spent a substantial amount of time in and out of hospital in the last few months.
A lot of young activists today may not know or have heard of him but he shot into prominence with his critique of the Enron power project. A critique that was meticulous, painstaking, thorough and indisputable, if merit of argument were the criterion. It was, mainly, his research that became the basis of a national movement against Enron and its Dabhol Power Project in Maharashtra in the latter of half of the 1990s. And he was not even 30 years old then.
Politicians, corporate power, pliant decision-makers, purchasable protectors of law conspired to push through the project but it did not take more than a few years for the conscientious Abhay Mehtas of world to be vindicated. Enron and its crooked E sank without a trace. For the discerning Enron foretold the shape and character of things to follow. And the rest is history.
Activists across the country fighting against displacement and environmental destruction whether it is due to dams, industries, mining projects, nuclear power plants, infrastructure projects, SEZs, SIRs, Industrial Corridors would pause a minute, bow their head and pay their respects to a Comrade who, giving up his career and profession, took the plunge against what was the first and most scandalous private power project in post-Liberalisation India.
Abhay -a brilliant student- was a man of many parts. His interests encompassed Chemistry, Biology, Genetics, Energy, Software and a lot more. He was pursuing a doctorate in Boston when he was exposed to burning public causes. His sensitivity and commitment to public causes were so strong that he did not finish his nearly complete doctoral thesis and returned to India. That's how his Enron sojourn is said to have begun.
Abhay was a genius with a very large heart. He earned what he needed doing occasional projects and spent a substantial portion helping out friends in need. Just as he had plunged headlong into Enron while in his 20s, he devoted his last few years to studying Ayurveda. He is said to have collected over 3000 books on the subject. So firm was his belief and practice that he refused to undergo allopathic treatment in spite of his worsening illness.  Along with his ailing, elderly mother for company it was his circle of friends who held his hand in his hour of need and through his months in hospital.
Fare you well friend, and blessed unrest wherever you've made your new home – till there's justice!
Small personal note at the end: I was moved to write this, not because I knew you well, but because you inspired me 20 years ago, that was the last time I saw you, but I still remember the warmth, sincerity, courage and above all, mercurial brilliance.
Anand Mazgaonkar